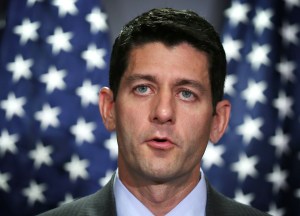 With Wisconsin Congressman Paul Ryan considered to be a leading contender to be Mitt Romney's running mate, readers of the veepstakes tea leaves took note when he pulled out of a planned speech this evening and when his political action committee filed several amended reports. However, aides to Mr. Ryan told The Politicker it would be a mistake to read any greater significance into these moves.
Mr. Ryan was scheduled to speak at the Americans for Prosperity Foundation's Defending the American Dream Summit in Washington D.C. tonight, but he cancelled the appearance. Mr. Ryan's cancellation made Daily Caller reporter Matthew Boyle say "Hmmm…"
"Had to run to answer VP call?" asked Houston Chronicle blogger Kathleen McKinley.
Organizers told us they were unsure why Mr. Ryan pulled out of the planned speech.
"I'm not quite sure what the situation was, but he wasnt able to make it today," Americans For Prosperity spokeswoman Jennifer Ridgely said.
Mr. Ryan's press secretary, Smythe Anderson, said he simply returned to Wisconsin after this week's House voting ended last night.
"The House finished up votes last night and so he's back in the district," Ms. Anderson said.
Kevin Seifert, a spokesman for Mr. Ryan's campaign, echoed Ms. Anderson's explanation saying the congressman "wanted to get back and see his family." He also said Americans for Prosperity was warned this might happen.
"We informed Americans For Prosperity too that, in the event they finished early, this was going to happen," said Mr. Seifert.
Mr. Ryan has no publicly scheduled events this weekend.
The cancelled speech isn't the only thing that caused speculation to swirl around Mr. Ryan this afternoon. Eagle-eyed Politico reporter Ken Vogel also noted Mr. Ryan's political action committee, Prosperity PAC, filed amended versions of its three most recent monthly fundraising reports today.
"Preparing for big announcement w FEC cleanup?" Mr. Vogel asked.
Mr. Seifert said the reports had to be amended when Mr. Ryan's staff noticed a donation made in April was accidentally counted for both the Prosperity Action Committee and the congressman's joint action committee, a mistake which carried over into subsequent reports.
"It's a pretty easy explanation. Basically, it was cleaning up an error that had been made in April 2012 regarding money that had been doubly counted," Mr. Seifert said.
Former Secretary of State Condoleezza Rice and Minnesota Governor Tim Pawlenty have also been the subject of intense veepstakes rumors in recent weeks. Barring any early sightings of a made-over Romney campaign plane, the world may not know the answer about Mr. Romney's running mate for certain until the official announcement comes via app.