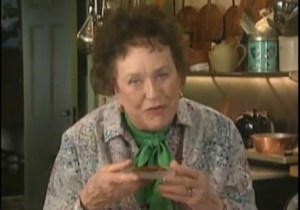 Several weeks ago, PBS Digital Studios released a Bob Ross mashup called "Happy Little Clouds." It was the follow-up to the studio's Mister Rogers Auto-Tune smash hit, "Garden of Your Mind," and it was all sorts of wacky. What are you doing, PBS? Public Broadcasting isn't supposed to be hipster-cool!
But following the "If it's not broke, don't fix it," theorem, we now have a Julia Child remix, "Keep on Cooking." It's making us kind of hungry.

We just can't wait for the Masterpiece/Downtown Abbey Auto-Tune.