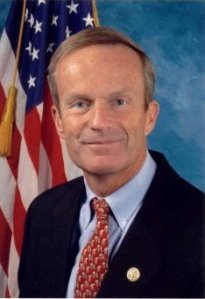 A new poll might explain why Congressman Todd Akin isn't heeding the wishes of Republican Party leaders and dropping out of the Missouri Senate race following the firestorm over his comments on "legitimate rape." According to the latest numbers from Public Policy Polling, Mr. Akin still maintains the same slim one percent lead over his opponent, incumbent Democratic Senator Claire McCaskill," that he enjoyed prior to the controversy over his suggestion rape doesn't lead to pregnancy because "the female body has ways to try to shut that whole thing down."
In the aftermath of his remarks, which were made in a local television interview that aired Sunday, Mitt Romney denounced Mr. Akin's comments and Republican National Committee Chairman Reince Priebus told CNN he wanted the congressman to "step aside and let someone else run" for the Senate seat. Despite his detractors and conflicting reports of his demise, Mr. Akin showed signs he was staying in his race against Ms. McCaskill. He created an advertisement asking for "forgiveness" and he launched a fundraising campaign touting his refusal to give up the fight.
Public Policy Polling surveyed voters on Mr. Akin between 6 p.m. and 9 p.m. last night. The single day of polling is less substantive than the conditions the pollster normally operates under, and thus the results can't fully be touted until additional information comes in.
He has until this evening to withdraw in time for Republicans in Missouri to select another Senate candidate without a court order.