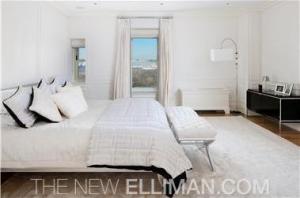 Greenwich can be lovely: it's quiet. The houses are huge. The lawns come in lush expanses rather than pots or postage stamps. But it's too quiet for some, or at least Dinesh Paliwal wanted a richer soundscape than what the tony suburb had to offer.
Mr. Paliwal, the president and CEO of audio systems giant Harman International, has purchased a two-bedroom, 2.5-bath apartment at the Plaza, according to city records. He and wife Ila are either picking up a new pied-a-terre or getting the hell out of the suburbs altogether.
Mr. Paliwal is, after all, at the helm of a company that specializes in noise.
The couple picked up their 14-floor condo for $8.5 million, a pretty nice price reduction considering that it was most recently listed at $9.5 million with Prudential Douglas Elliman brokers Jason Walker and Harry DiOrio. It was originally asking $9.9 million when it hit the market in December. We suppose that not even "sumptuously appointed tiled baths" or "amazing direct views of Central Park South" were enough to persuade the Paliwals to pay a little more? And we guess they were unswayed by the fact that the apartment came fully wired with high-tech lighting, sound and video.
Seller Ann-Kathrin Linsenhoff took a significant loss on the apartment—she paid $9.7 for it back in 2007. But Ms. Linsenhoff, an Olympic champion who won the gold medal in team dressage for Germany in 1988, apparently thought it was the right time to ride away. If a lifetime spent on the competitive horseback riding circuit doesn't teach a person to accept defeat with grace (and to have enviable posture), we're not sure what could.
Besides, Ms. Linsenhoff is undoubtedly off to greener pastures. You know, Central Park's bridle path is not what it once was.
kvelsey@observer.com