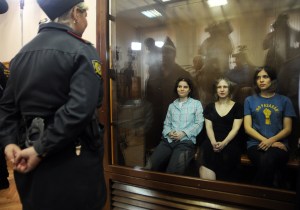 According to the New York Times and other sources, three members of the Russian punk band Pussy Riot have been found guilty of hooliganism. Sentencing is expected later today. Each woman was sentenced to two years in prison by a Moscow judge.
Here in New York, after last night's solidarity reading at the Ace Hotel, featuring Chloë Sevigny and others, a "morning musical masquerade protest party" is planned.
Protestors will gather at 9 am at St. Nicholas Russian Orthodox Church on East 97th Street, march down Madison Avenue to the Russian Consolate at East 91st Street, and continue down Madison Avenue to Times Square. A 1 pm rally is scheduled at 46th Street and Broadway.
The organizers of the protest have instructed attendees to "Bring signs, wear bright colors (see Pussy Riot for inspiration) and bring a noisemaker and/or stringed instrument. Don't forget to bring your balaclava masque." (Balaclavas are a signature fashion item for the band.)
Daphne Carr, an organizer of the today's events, told us last night that today's protests constitute civil disobedience, as New York has an obscure "anti-mask law" that forbids groups of three or more people from wearing face coverings without a permit.
The three women of Pussy Riot (Maria Alyekhina, Nadezhda Tolokonnokova and Yekaterina Samutsevich) were arrested in February following a guerrilla anti-Putin musical protest in Moscow's Christ Savior Cathedral. An outpouring of support from across the globe followed.