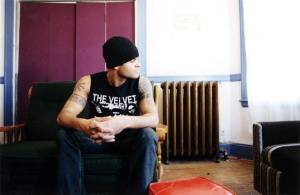 Elgin James, a onetime juvenile hall inmate, singer for the punk band Wrecking Crew, and member of a group, FSU, that robbed from drug dealers and redistributed money to Boston charities, has left all that behind. After a move out west from Boston and quitting FSU, Mr. James is now the writer and director of Little Birds, a surprisingly sensitive film (and 2011 Sundance sensation) about two young women (Juno Temple and Kay Panabaker) who leave home by the Salton Sea and follow two boys to Los Angeles. It's now playing in New York, and we reached him by phone for a Q&A.
To what degree is this drawn from experiences you've had–even though the protagonists are girls? Is there anything in the film familiar, even just in terms of feeling?
Definitely in an emotional sense. Looking at the boys, that's the autobiographical part, because I saw myself as the character Jesse–this is who I was back then. When my best friend and my wife saw it, they said, "Hell, you were an asshole." When I was one of those boys, living in abandoned buildings or squatting here and there, these girls would come around, these runaway girls, united by punk rock, being an adolescent boy, I was only interested in them for things adolescent boys are interested in… But being an adolescent boy I was more interested in where they came from and what they went on to do, as opposed to what happened to the boys. I know that story.
Had you been thinking about making films before producer Jamie Patricof discovered you?
I was–it's funny, because I always had that daydream, even when I was a kid, I loved movies. I had horrible nervous tics as a kid but when I'd watch a film, I'd get lost inside it. Later, I'd go to art-house theaters in Boston, and this was the time in the '90s when there were these amazing indie films–Kids, all these other films that had a big influence on me. When we moved to L.A., my wife and I, I wanted to make a movie–and I didn't know what it entailed, I just wanted to. And I talked to people about my life story, and how they could make my life story into a film, but I wasn't going to write or direct. I got an agent all of a sudden. And I'd never written a script before, but I decided to do Little Birds. Jamie Patricof wanted to do a biopic, a $20 million story about me and my gang. But I didn't even go to the meeting, but I sent two friends of mine with the Little Birds script. His assistant took it home, read it, fell in love with it, and basically forced him to work with me.
How did you learn the technical aspects of film?
I got there and I didn't know what a gaffer was, didn't know what a grip was, and just realizing that I could fake my way through this. The whole thing was a way to find out who you truly are. And I had to ask what things were, but coming from that place of weakness or vulnerability made me work that much harder to figure it out. Towards the end, I shot a bunch of scenes, and [Twilight director] Catherine Hardwicke, who's a mentor to me, watched me stuff and was like, 'This is boring!' And we had this whole conversation where I realized I don't think visually, I think emotionally.
What directors most influenced you?
To me, Little Birds was a genre film–like a John Ford Western. A genre film about coming-of-age, with details of the friendship and relationship. Kids leave a small town, run away… there's Manny and Lo, films like Terrence Malick's Badlands–the way violence is used in his films, I related to that a lot.
Do you ever miss your old life on the streets? There's an appeal to recidivism.
I never did! You know, it's a world I made myself, and you can't dig a hole and cry about being at the bottom of it–but it took me so long to crawl out of the hole I dug for myself. [He was sentenced to a year in prison in 2011 for extortion; he was recently released.] It was only when I was in prison that I realized that I'm an asshole, that I felt like a drunk at a crowded bar. I was surrounded by rapists, drug dealers, thieves–and also great people I became close with! But, after I left, I was thrown into this world, and all of the mentors I've had since then, and of course my wife–a lot of people stood by me, so I have a lot to prove.