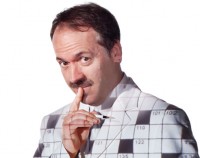 Ever since a debate erupted over the merits of a clue whose answer was the word 'illin' in the New York Times crossword puzzle in January, obsessives of crossword master Will Shortz's diabolical work have carefully watched developments in the newest evolution of what may be the most famous daily puzzle game in Western Civilization. Today, another brave, daring step is taken.
Dr. Dre—the man behind seminal rap albums The Chronic and 2001, for who many matters are in fact "Nothin' But a G Thang," and the hitmaster behind the rise of such prominent rappers as Eminem and Snoop Dogg (né Doggy Dogg)—is finally enshrined in immortality by entry into the New York Times crossword puzzle answer pantheon, as the answer to today's (SPOILER ALERT) 26-Down clue, "Rap's Dr. ___."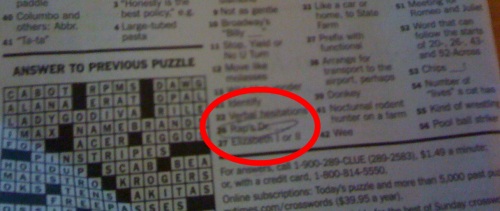 Previous honorees of this designation include:

The Observer's Crossword Puzzle Research Department has only taken the most cursory of looks, but it would initially appear that this summer, more rappers have appeared within the pages (or rather, letter boxes) of the Times crossword puzzles than any year prior to it. As such: We've emailed Times crossword master Will Shortz to validate or invalidate our theory, and will update if we hear back. In the mean time, if you can think of any other examples of rappers appearing in the Times crossword pages—either this year, or at any point before it—by all means, let us know (either via email or the comments).
[PREVIOUSLY: New York Times' Crosswords Going Premium-Premium, Even for Subscribers]
*Of which, Dr. Dre was a founding member, but was not individually recognized in the clue.
fkamer@observer.com | @weareyourfek