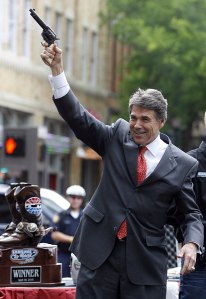 TAMPA, FL — Former presidential candidate and Governor of Texas Rick Perry is quite possibly carrying a weapon on the streets of Tampa as he attends the Republican National Convention. We spotted Mr. Perry a few moments ago walking into the CNN Grill, which the cable network set up to provide politicians and journalists a place to mingle and unwind during the RNC festivities. Since he has a well-documented "long love affair" with firearms Politicker asked Mr. Perry whether he was "packing" at the RNC.
"You never know, that's why they call it a concealed weapon," Mr. Perry said with a chuckle and a pat on his hip as he made his way into the Grill.
Though there is an extensive list of banned items in the secure "event zone" surrounding the RNC, concealed weapons are not being prohibited in downtown Tampa during the convention. For security reasons, Tampa Mayor Bob Buckhorn wanted to temporarily ban guns in downtown Tampa for the duration of the RNC festivities, but he was overridden by Florida governor Rick Scott. Though Mr. Perry will be able to pack heat at all of the RNC parties and events in downtown Tampa, guns are not allowed within the security perimeter surrounding the convention floor itself.