"There is no book on how to handle a situation like this," Steven Friedman, the chairman of the board of trustees for Horace Mann, told the school's Alumni Council at a meeting in an auditorium at the school's hallowed Riverdale campus last week.
Like Penn State and Poly Prep before it, Horace Mann was grappling with the aftermath of serious accusations of sex abuse made by its graduates against former faculty members, and Mr. Friedman and headmaster Tom Kelly had called the meeting to address the terrible matter that had brought the school much ignominy and negative press.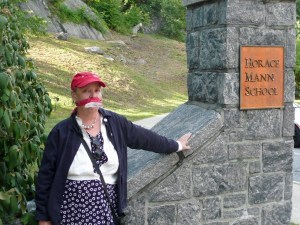 The impetus for this meeting had come in the form of a nearly 10,000-word New York Times Magazine cover story written by Horace Mann alum and playwright Amos Kamil that was published in June.
The story painted three popular teachers as sexual predators during the 1970s, '80s and '90s: Johannes Somary, a former chair of the arts and music department, who was accused of molesting students in his car, in hotels during glee-club trips and during sojourns in Europe; Stan Kops, who resigned following strange behavior during a 7th grade orientation trip in 1983; and Mark Wright, who was described as "performing fellatio" on a young student inside an art studio in 1978.
In 1993, Horace Mann student Ben Balter sent a letter to then-headmaster Phil Foote about Mr. Somary's "grossly inappropriate sexual advances" toward him, which had "persisted for several months now." He added, "The purpose of a school such as Horace Mann is to provide a safe and comfortable learning environment. This goal is clearly made impossible by the inappropriate actions of teachers such as Mr. Somary." Nonetheless, the teacher remained on staff at Horace Mann until he retired in 2002. Mr. Balter killed himself in 2009.
Now all three of the accused teachers are dead, one of the many complications the board was faced with when deciding on a course of action, Mr. Friedman told the Alumni Council.
Members of the two alumni organizations born out of Mr. Kamil's article, the Horace Mann Action Coalition and the Horace Mann Survivors, did not think the matter was especially complicated: The school should finance an independent investigation similar to the one that produced Louis Freeh's damning report on Penn State's handling of football coach Jerry Sandusky, they said. And the school should also offer an unconditional apology, along with compensation, to its victims.
Perhaps displeased with the administration's handling of the situation, the Horace Mann Survivors group hired Gloria Allred as its attorney last week, The Observer has learned. The Survivors deferred all interview requests to Ms. Allred, who declined to comment for this article.