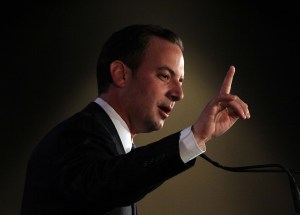 Republican National Committee Chairman Reince Priebus and Florida Congressman Cliff Stearns held a conference call this afternoon to discuss a report released yesterday by the Republican-controlled House Energy and Commerce Committee, which revealed former White House deputy Chief of Staff Jim Messina (who is currently President Barack Obama's campaign manager) used his personal email to conduct official business and White House staffers conducted meetings outside the building to avoid being included in the official record. Mr. Priebus said this represented a hypocritical failure of the Obama administration to live up to their promises of transparency and suggested it may indicate illegal activity.
"We got more news today that the self-proclaimed 'most transparent administration in history isn't transparent at all. They've been using the Caribou Coffee shop across the street from the White House as an executive branch annex to hold secret meetings with lobbyists and political cronies," said Mr. Priebus. "These newly uncovered emails showed one White House staffer explicitly asking an industry insider to meet him at Caribou so that he wouldn't have to appear on the White House visitor logs. The White House doesn't want the American people to know who they're meeting with on a day-to-day basis. They've had hundreds of meetings at Caribou, so we have no way of knowing what insider deals they're cutting."
Mr. Priebus described the "stunning revelations" in the report as part of a pattern of the Obama administration "cover[ing] up their own ethical lapses."
"These are stunning revelations. They show the Obama administration has not only found loopholes in their own self-imposed transparency rules," Mr. Priebus said. "They're also failing to follow the law under the Presidential Records Act. This supposedly transparent administration has spent the last three-and-a-half years actively trying to cover up their own ethical lapses. They've tried to hide from the GSA scandal, 'Fast and Furious,' politically motivated intelligence leaks and stimulus-funded crony capitalism like Solyndra."
Both Mr. Priebus and Mr. Stearns said they wanted to see a "full scale investigation" into White House staffers' use of personal email addresses and off-site meeting locations. Earlier today, White House Press Secretary Jay Carney defended Mr. Messina by saying he always forwarded official emails from his personal account to his White House address.
"In an effort to comply with all the regulations pertaining to emails, he would forward emails to his White House account or copy his White House account so that those emails would be part of presidential record. And that is per guidance provided by counsel," said Mr. Carney.
Mr. Carney said he and other White House staffers often have meetings "off campus." The White House has also argued House Republicans' interest in the transparency issue is politically motivated.
On the conference call, Mr. Stearns, who complained the White House had been stonewalling attempts to investigate the issue, said there's no proof Mr. Messina forwarded his emails to his official account.
"They say that they CC'd to the White House, but that's their word. We haven't seen the fact that they did CC the White House," Mr. Stearns said. "Theyr'e saying they CC'd the White House, we'd like some corroboration of that fact."
Mr. Priebus said an investigation would help determine whether "a crime" had been committed.
"If you are using your personal email account to forward to yourself to and from the White House in order to make multi-billion dollar deals with lobbyists using taxpayer money, don't you think something smells a little funny here? I sure do," he said. "Certainly there is smoke and smoldering fire here and my suspicion is that there will be a lot more uncovered once an investigation commences."
Initially, when the report about the emails and off-site meetings was released, Mr. Stearns included an accompanying statement saying he was simply pointing out the Obama administration had failed to live up to promises of transparency and he wasn't alleging illegal activity. On the conference call reporters asked Mr. Priebus why he was now suggesting a crime may have been committed. He answered that it was hard to say for certain since the White House hadn't released all the documents requested by the House Republicans.
"I think it's hard to question whether it's illegal because we haven't seen the documents and they haven't complied with our request, whether it be subpoenas or a simple request under the presidential act for freedom of information," said Mr. Priebus. "They have not complied, so we really can't say."
Mr. Priebus said the main issue raised by the report was the president's "hypocrisy."
"If anything, of all the issues here today, it's the Obama hypocrisy that I want to highlight. The fact that he said that he was going to be different than everybody else, that he was going to be the most transparent guy that ever was President of the United States and here we go again," Mr. Priebus said. "The Obama White House is actively deceiving the American people and they're doing it over at Caribou Latte."