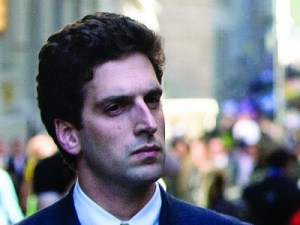 When we left for the day yesterday, we thought that the notion that Benjamin Lawsky—the New York State Department of Financial Services chief whose agency had filed an order alleging Standard Chartered Bank had conducted $250 billion in illicit business with Iran—was a regulator gone rogue had been more or less attended to.
At Alphaville, Paul Murphy had noted Standard Chartered's efforts to spin Mr. Lawsky as a rogue regulator, but also that investors appeared to be taking the DFS order seriously, pricing the possibility that the bank might lose its New York license into Standard Chartered's plummeting share price. (Shares have since recovered some of the value lost after the DFS order was filed.) On Reuters TV, U.S. editor Rob Cox asked "Who is Ben Lawsky?" but that mystery was easily solved. The DFS was only created last year, but the agency is essentially an amalgamation of the state's departments of banking and insurance, and there's not a financial journalist who worked through AIG's darkest days who wouldn't recognize the name of former state insurance superintendent Eric Dinallo.
Well, how pretty it was of us to think so. Federal regulators were "irate" with Mr. Lawsky, the Reuters headline read. The order caught the Federal Reserve and Department of Justice off-guard, said The New York Times. And surely it would have: DFS didn't alert federal officials about its plans until Monday morning, according to The Times. Even Bloomberg, which played down the "rogue" angle, topped its story on the potential penalties facing Standard Chartered with an explanation for Mr. Lawsky's decision to go it alone. ("His department grew impatient with inaction by federal regulators, a person familiar with the case said.")
In that light, Mr. Lawsky did begin to seem somewhat roguish, especially when considered that settlements with Credit Suisse, ING and others over transactions with sanctioned nations involved multiple U.S. regulators, or that the order seemed written to command attention, what with the assertion that Standard Chartered's actions left the U.S. financial system vulnerable to "terrorists, weapons dealers, drug kingpins," or the whole "f—ing Americans" thing.
On the other hand, we can't help but feel this rogue business is a red herring. After all, and to Jamie Dimon's chagrin, the global financial system is regulated from many quarters, and one can hardly expect the multitude of watchdogs to work in concert at all times. Did the New York Fed go rogue when it sat on its knowledge of Barclays' LIBOR manipulations? (Okay, maybe.) Were the states attorneys general that held out for a sweeter mortgage servicers settlement rogues?
The point is: Mr. Lawsky's roguishness isn't the point to fixate on. Or: to each regulator his own.
The better question for the Fed and the Treasury and whatever other agencies are feeling sore over Mr. Lawsky's surprise filing is to what extent they agree with DFS's central charge: that Standard Chartered conspired with the Iranian government to conceal about 60,000 so-called U-turn transactions totaling something like $250 billion. Or alternatively, whether they find themselves closer to Standard Chartered's position: that 99.9 percent of the transactions in question complied with regulations, and that the total value of illicit U-turns was a mere $14 million.
It's the gulf between those two numbers that matters, not what motives Mr. Lawsky and DFS had in forging on alone, which agencies were peeved by the solo effort, or who called whom what first.