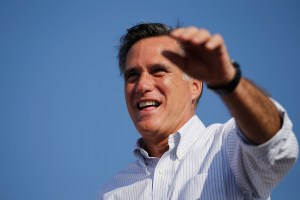 At an event in Commerce, Michigan this morning Mitt Romney referenced his roots in the Great Lakes State by making a comment that the Obama campaign denounced as an allusion to the persistent, discredited questions about President Barack Obama's citizenship.
"No one's ever asked to see my birth certificate. They know that this is the place that we were born and raised," Mr. Romney said.
Ben LaBolt, national press secretary for the Obama campaign, quickly issued a statement condemning Mr. Romney's "birther comments." The Romney campaign countered that the remark was simply a nod to Mr. Romney's birthplace.
"Throughout this campaign, Governor Romney has embraced the most strident voices in his party instead of standing up to them. It's one thing to give the stage in Tampa to Donald Trump, Sheriff Arpaio, and Kris Kobach. But Governor Romney's decision to directly enlist himself in the birther movement should give pause to any rational voter across America," said Mr. LaBolt.
A Romney campaign aide disputed the notion that Mr. Romney was referring to the so-called "birther" theories that Mr. Obama's birth certificate may be a fake.
"The governor has always said, and has repeatedly said, he believes the president was born here in the United States. He was only referencing that Michigan, where he is campaigning today, is the state where he himself was born and raised," the aide said.
In an interview with CNBC last April, Mr. Romney unequivocally said he thinks "the president was born in the United States.
"I think the citizenship test has been passed. I believe the president was born in the United States. And there are real reasons to get this guy out of office. And the number one reason is he doesn't understand how the economy works and how to create jobs in the private sector," Mr. Romney said. "He also has made extraordinary mistakes internationally, globally. The man needs to be taken out of office, but his citizenship isn't the reason why."