Maybe you've heard of the buzzed-about Tumblr known as Rich Kids of Instagram? It's a blog that chronicles the comings and goings of some of the world's uber-rich children. It's an unapologetic, hilarious display of extravagant wealth, the teenagers who have done little to fall into it, and the way they live their very-moneyed lives. Some people see it as voyeurism, others see it as a despicable celebration of undue wealth, and others see it as a others see it as a problem (like some of the parents of these children, who have found their own personal security compromised by their kids' aggregated "contributions" to the blog).
But if you're working the ad buys on a presidential campaign, you see it as an opportunity to reach a certain demographic.
As pointed out by Tumblr's Annie Werner, it would indeed appear that Mitt Romney and Paul Ryan's campaign is advertising on it.
We checked for ourselves and, sure enough, found the ad there: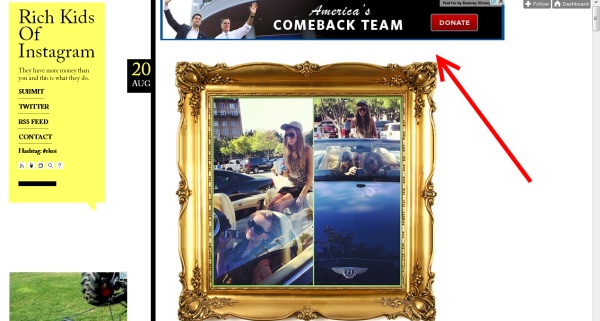 Whether or not someone on the Romney campaign sees that demographic as primarily
"Rich Kids!"
"People Who Relate to Rich Kids!"
"Rich Parents Trying to Spot Their Rich Kids!"
or "Voyeurs of Rich Kids Who May or May Not Have Positive Feelings About Absurd Wealth and Children!"
is anybody's guess, but it is, at the very least, an inspired decision/ad placement (especially as it links to a donation page on the Romney/Ryan website). Now let's see how long it lasts.
fkamer@observer.com | @weareyourfek