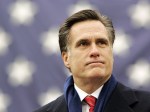 A Denver TV reporter scored a rare interview with Mitt Romney today, although the terms were more limited than she may have liked.
Political reporter Shaun Boyd of CBS4 told an anchor, "The one stipulation to the interview was that I not ask him about abortion or Todd Akin—he's the Missouri Republican who created a firestorm after saying women's bodies shut down in a legitimate rape to prevent pregnancy. I did ask him about health care, the female vote and energy."
This created a predictably mocking response from the Obama campaign:
It's no surprise why. On Tuesday, the Republican Party's Platform officially endorsed the Akin amendment, which would ban abortion for all women, including rape victims, and Paul Ryan has struggled to explain his support for redefining rape. Mitt Romney's campaign might be able to muzzle reporters from asking tough questions, but women across America deserve to know the truth about Romney-Ryan's extreme agenda.
Video of the exchange is below, and a clip of the full interview–minus Akin and abortion questions–can be found here.
A Romney campaign source emails to say that there seems to have been some kind of misunderstanding.:
"This is not how we operate.  The matter is being addressed."
[youtube http://www.youtube.com/watch?v=b2Kec4C6zjU]