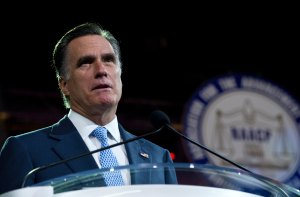 Mitt Romney is set to reveal his running mate at an event at the USS Wisconsin tomorrow in Norfolk, Virginia, according to a late night email from the Romney campaign, which noted the big reveal will kick off Mr. Romney's "The Romney Plan For A Stronger Middle Class" bus tour. The location and a report from the Weekly Standard that came out just twenty minutes before the official announcement indicate Mr. Romney may have settled on Wisconsin Congressman Paul Ryan.
Mr. Ryan, who is the main architect of the Republicans' budget proposal for 2013, enjoys rock star status among fiscal conservatives, but the deep entitlement cuts in his budget plan have made him a bogeyman and favored target for liberals seeking to fire up their base. Along with Ohio Senator Rob Portman and former Minnesota Governor Tim Pawlenty, Mr. Ryan has been considered one of the frontrunners in Mr. Romney's drawn out veepstakes drama, but his aides have deflected past rumors. As of this writing, Mr. Ryan's staff has not responded to requests for comment on this story.
Despite a definitive headline declaring, "Romney Prepares to Pick Ryan," the Weekly Standard report was loaded with caveats like "the Romney team could be engaging in some last minute misdirection, as other campaigns have done." The world, and a slew of political reporters who are having their weekends ruined, will have to wait for a final answer when Mr. Romney holds his event starting at 8:45 tomorrow morning.