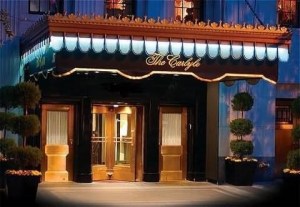 For a lot of people, $455,352 is the kind of money that buys a nice house in the suburbs or a one-bedroom apartment in New York. But for some, it's just the cost of annual maintenance fees on an apartment at one of the city's hotel co-ops.
Paramount Pictures chairman Brad Grey drops a half-a-million dollars a year for the maintenance fees on his 3,000-square foot apartment at the Carlyle, The New York Times reports, which charges the city's highest monthly maintenance fees of $10.23 per square foot. And he had to shell out $15 million to buy the apartment in the first place.
But is it really worth paying $37,946 a month to have twice-a-day housekeeping and people to bring you a cup of coffee or press your shirts at constant beck and call? (Cable TV, window washings and bath amenities are also included).
"You are really looking at buyers who, in order to maintain a staff in any residence that could deliver all of the things that are deliverable at the Carlyle, would have to look at spending hundreds of thousands of dollars a year on that staff," Brown Harris Stevens broker Kathy Sloane told The Times.
Really?
Fortunately, the hotel lifestyle can be had for less at the Sherry-Netherland, which only charges $6.03 a square foot, or the Pierre—basically a huge bargain at $3.37. Or the wealthy can always move into a normal co-op for an average of $1.70 a square foot, hire a full-time housekeeper and make their own coffee (e gads!).
The Times notes that the maintenance fees don't cover dog walking or lush flower arrangements or any of the other luxuries you might imagine would be a part of life at the Carlyle. Not that the hotel can't arrange to have your dogs walked or your tables graced with rare blooms—but it will cost you extra. Although residents do get discounts on spa services and the parking garage. Which should come as a real relief to someone who's shelling out tens of thousands of dollars a month to have staff members at every corner.
But there's twice a day housekeeping! gushes one broker. Twice A Day.
Not mentioned: are tips included? How about pillow mints?
kvelsey@observer.com