Linda Ramone== JOHN VARVATOS Celebrates the Launch of COMMANDO: The Autobiography of Johnny Ramone== John Varvatos 315 Bowery Boutique, New York== March 29, 2012== ©Patrick McMullan== Photo-JIMI CELESTE/patrickmcmullan.com==
dgrantobserver
"
Hey girl
, I heard you want to make some arts and crafts in school. I got a voucher with your name on it."
dgrantobserver
Use your imagination to give OWS's favorite officer a Ralph Lauren suit in every color!
dgrantobserver
It's never too early to get your children interested in New York's finest local news anchor who is actually Canadian.
dgrantobserver
And if they finish their homework, they can have a box of Crayolas to color themselves with while watching Gossip Girl.
dgrantobserver
Make sure to bring one to
your next abortion party
... and remember: it's not coloring if you only use the white crayon.
dgrantobserver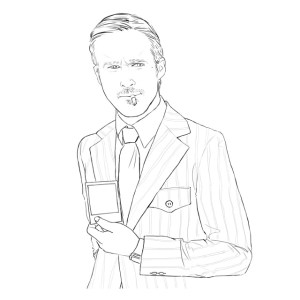 Last week, fans of The Notebook got some exciting news: Ides of March star Ryan Gosling was getting his own coloring book! Thanks to pop artist and pop culture paper doll creator Mel Elliott, you too can now own a little piece of Gosling to color in any way you like. Choose from whichever Gosling suits your erotic fantasy: the book has everything from Drive Gosling to Blue Valentine Gosling to Lars and the Real Girl Boss-Gos.

But surely the hunky inspiration for the Hey Girl meme can't be the only media figure worthy of a couple Crayolas on a rainy afternoon. We went through ILoveMel's trash and found seven rejected prototypes for a spin-off series. Take a look!