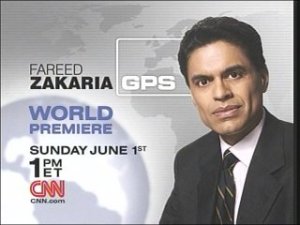 Another day, another marquee writer who is bus-ted. The New York Times will sometimes respect their readers and the people they quote, and other times, have no respect for their readers and the people they quote. But they do have respect for learning, even if it's something you should have learned as a child. They're not the only one! Also, there's no new news about Jay Penske pissing on some woman's boots, so if that's what you're here for, enjoy the rest of your afternoon.
Otherwise, here are your Friday Evening Media Briefs:
Contain Your SchadenFareed: If you're reading this after 4PM on a Friday, then you no doubt already know that Fareed Zakaria was busted for plagiarizing having an article that contains some of the same words as New Yorker writer Jill Lepore's piece on the NRA. He 'fessed up; Time suspended him for a month, and CNN suspended him indefinitely. His apology:
"Media reporters have pointed out that paragraphs in my Time column this week bear close similarities to paragraphs in Jill Lepore's essay in the April 23rd issue of The New Yorker. They are right. I made a terrible mistake. It is a serious lapse and one that is entirely my fault. I apologize unreservedly to her, to my editors at Time, and to my readers."
Note the first two words, but also, the quick confession. 'Guess someone learned their lesson from L'affaire Lehrer. Rather than read all the thinkpieces about What It Means To Plagiarize Now or whatever people are going to dream up at brunch—which isn't even a real meal—over the weekend, you should just go back and read Jonathan Liu's 2008 review of Zakaria's The Post American World (a critique on the pundit-as-careerist) instead. [The Atlantic Wire, @HuffPostMedia]
All is Sunny on Planet Money: Following up on the piece we posted on Thursday examining Yasha Levine and Mark Ames's ethics colonoscopy given to NPR's Planet Money host Adam Davidson, we heard back from a spokeswoman at The New York Times (where he has a column at the Times Magazine), who issued a statement to us on the issues presented yesterday:
We have discussed this situation with Adam and we're confident that there has been no violation of our policies around speaking engagements and no conflict of interest.
So there's that. [Previously]
The New York Times Gets Choosy About Attribution: The Times refused to credit a blog named STFU Parents because it implies bad words, says an assistant at the Public Editor's office. So why did they allow LMFAO and an entire piece about a blog titled "Fuck I'm In My Twenties"? Here's a better question: Could they come up with a more condescending response than this?
We feel some obligation to try to maintain The Times as a respectable publication and respect all of our readers. You have your approach. Other publications have their approach. And we have ours. That's what makes the world go round.
Probably not. Let this serve as a reminder that the Times' "approach" is to be selective about who they have respect for and who they don't. Sometimes, it's their readers, and sometimes, it's people they choose to quote but not attribute! [The Atlantic Wire]
The Learning-Things-As-An-Adult-You-Should-Have-Learned-As-A-Kid-Trend: It's almost complete. Within 24 hours of one another, two pieces went online for publication in this weekend's papers. One is in tomorrow's New York Times about a transportation reporter learning to ride a bicycle (as an adult). The other is in today's Los Angeles Times, about learning how to swim (as an adult). One more and we have a trend. Suggestions from the newsroom include "Learning How To Tie My Shoes (as An Adult)" and "Learning How to Write (at the Post)." [NYT, LAT]
Technology Writer Does Job: Not that this isn't a usual occurance, but Gizmodo blogger Sam Biddle went off the rails, resulting in a wonderfully misanthropic rant against technology and its consumers. Buried in it is an important opinion about tablet computing not expressed nearly enough by the media-technology cheerleaders who think neat toys will save media:
Tablets are a complete luxury item—PURE luxury—and owning one makes you an asshole, instantly, categorically. It's a wonderful toy. But a toy. A big boy toy. Nobody needs an iPad. Nobody. Not a single person, unless you're literally so stupid and/or infirm that you can't use a keyboard and mouse like the rest of the industrialized (or barbaric) world. iPads are a status symbol, a second computer that's built expressly for convenience.
Correct. Most technology writers are reluctant to admit things like this, however, because it would probably compromise some level of access and then, likely make them insecure about the necessity of their own careers and shaky about their livelihoods. Of course, those are the least necessary technology writers out there, but so it goes. [Gizmodo]
Rolling Stone's Web Site's Evolves, as It Always Has. A Tweet from Forbes writer Kashmir Hill:
Very sad that Matt Taibbi's review of Dark Knight Rises is not online. Rolling Stone's approach to the Web never ceases to bewilder me.
She's right. Nothing more to add. [@kashhill]
Have any lessons for us about things we could learn that we should have learned as children? Like, to hold all entities equally accountable for the same things? Or: Not to copy other people's work and pass it off as our own? Wait, we've already learned those. So just send us tips and copy-edits instead.
fkamer@observer.com | @weareyourfek