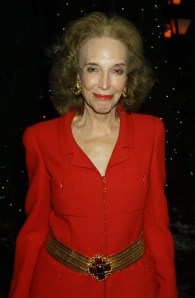 As a single man, I live for the single girl.
With the passing of Helen Gurley Brown, the original Cosmo girl, the old debates about her retro-progressive, sex-positive brand of feminism will be rekindled. And even as she is lauded as a catalyst for a spectacular wave of newfound sexual empowerment among a gender that was often brow-beaten and moralized into frigid submission, she may well perpetually be reviled by the old-school feminist cadres whose humorlessness almost ruined feminism for the rest of us.
Of course, the cartoon image of feminism was never the whole picture, as HGB well knew. Feminists' a group to which I believe I firmly belong, have largely been distorted into monsters through the prism of dick-brained male priapism, especially the right-wing testosterone cases who seem to live in perpetual fear of being bested by a member of the fairer sex.
It's a tricky business this feminism. But one thing you can be sure of is that HGB was not the emasculating type—far from it. In fact, while championing the remorseless sexuality and self-enlightened pleasure-seeking of the modern gal, she did a great service to the male of the species, and I stand before you now, naked and not ashamed, to tell you just how much we owe Ms. Brown.
The short answer, of course, would be a debt of gratitude for the approximately eight-quadzillion sex tips she published in Cosmo between the moment she landed there in 1965, on the cusp of an American social revolution, and her exit 32 years later—an avalanche of advice about, as James Brown might say, using what you got to get just what you want.
Even as a superannuated Brown headed for retirement, she was doing sit-ups during an exit interview, and I am betting she kept up with her kegels right up until her final moments, because Helen Gurley Brown knew this to be true: to be sexy, feel sexy.
HGB was no bombshell—she was a self-described "mouseburger"—but what she saw in herself was unlimited potential. She was an atom waiting to be smashed, and when she figured out how to unlock her power the ensuing blast was felt across generations. That 30 years later her vision of urban independence and guilt-free sex helped incubate the seeds for that toxic television show Sex and the City is unfortunate, but just as one can't blame Jesus for the awfulness of so many of his followers, so I don't hold HGB personally responsible for the Sex and the City girls (the Observer bears some liability), whose nearly unerring bad taste in clothes and their slavery to fleeting metropolitan trends made dating in New York City a nightmare during the heyday of its run.
Hopefully, we can all agree that looks aren't everything. HGB wasn't necessarily a romantic—she was goal-oriented to the point of being cynical—but she was never shallow, and her ends made for some pretty nifty means.
She talked about getting oneself together. She put high value on a good job, self-reliance (she could go toe-to-toe with Emerson in that department), and personal style, and by proselytizing this to women, advocating these self-empowering values, by extension she gave guys like me half a chance.
Over at Screw we prided ourselves on our feminism, and no one more than our fearless eater, Al Goldstein, who like others in the porn racket, worshipped women. (Most everyone, that is, except the duplicitous Hugh Hefner, whose disdain for the double-x chromosome was always palpable, even now as he continues to promote the most negative stereotype-reinforcing mannequins money can rent.)
A lot of people were surprised, too, when we rallied behind Martha Stewart. We didn't really like her per se, but we knew that she got fucked on that insider trading thing because she was a woman in man's world. No one with a penis would have done five seconds of time for that nonsense.
And we loved HGB most of all for her unabashed approach to satisfaction. Of course we buried Andrea Dworkin and Catharine McKinnon and anyone else who didn't laugh at our jokes. Dworkin, especially, who thought that all penetration was rape, was a bigot, plain and simple, and I feel for the great waves of passionate and sensible feminists who couldn't escape her sizable shadow.
Brown wasn't always right: she more or less advocated sleeping with married men and pilfering office supplies to make ends meet, and she so believed than any attention bestowed upon a woman by a man was benign at worst that she defended Clarence Thomas as the victim in his imbroglio with Anita Hill.
But thanks to HGB, millions of women know how to find their man's secret G Spot, and do things with their mouths and with such alacrity and technique as would make Fanny Hill blush like a child. And, like Moses leading his people out of Egypt, it would have been enough.
But nothing could be more important than her prime directive: To be sexy, feel sexy.
What else do you need to know?
Mike Edison is the author of the memoir I Have Fun Everywhere I Go. He is the former publisher of High Times magazine, and was the editor-in-chief of Screw. His most recent book is Dirty! Dirty! Dirty! – Of Playboys, Pigs, and Penthouse Paupers, an American Tale of Sex and Wonder (Soft Skull Press).