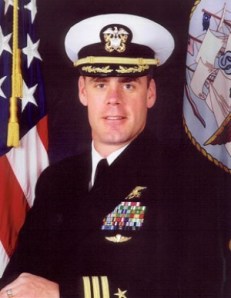 Earlier this week, Special Operations OPSEC Education Fund Inc., a group of former U.S. intelligence and Special Forces personnel, launched a campaign criticizing President Barack Obama for unfairly taking credit for killing Osama bin Laden and leaking national security information for political gain. This is the second high-profile attack on the president from ex-elite military operatives. Last month, Ryan Zinke, a Montana State Senator and former commander of Navy SEAL Team Six, started a super PAC, Special Operations for America, which is dedicated to supporting Mitt Romney and hitting President Obama on leaks and on politicizing Bin Laden's death. According to Mr. Zinke, these two super PACs are just the first salvo in what will be a sustained assault on the president by high-level ex-soldiers.
"There's a number of groups out there," Mr. Zinke told Politicker this morning. "I think what it demonstrates is, there's a lot of anger, there's a lot of concern among the former military community."
Mr. Zinke said he believes these feelings of anger were fueled by a series of White House leaks and an Obama campaign commercial featuring President Bill Clinton that questioned whether Mr. Romney would have ordered the SEAL Team Six raid that killed Bin Laden.
"I think there is huge concern that the administration is using and continues to leak class documents for less than–well, for political gain," said Mr. Zinke. "I think when the commercial came out with President Clinton and President Obama, and they talked about the political ramifications of failure, they didn't talk about the families that would be left without a father. They talked about political consequences—that was a bridge too far."
Mr. Zinke also pointed to White House leaks about the Bin Laden raid to a pair of filmmakers who are making a movie about the operation as something that was upsetting to military personnel.
"There's a lot of reasons you can release classified information, a lot of justifiable reasons, but making a movie for political gain isn't one of them," Mr. Zinke said.
According to Mr. Zinke, there are currently at least four other anti-Obama groups made up of former elite military operatives: Special Operations Speaks, Veterans for a Strong America, Special Operations OPSEC Education Fund Inc. and his group, Special Operations for America. He said he expects that number to climb. Because active-duty soldiers are barred from engaging in political activity, Mr. Zinke believes it is especially important for retired military personnel to speak up.
"It's really incumbent upon the retired guys to articulate a message. You look at the approval ratings of the president, Congress is in single-digits, the president is not far behind, and I think Americans still appreciate the credibility of our military," he said.
(For the record, the president's approval rating actually currently stands at over 40 percent.)
Mr. Zinke described his group and VSA as "kind of sisters" and said he knows some of the officers involved in other groups from his days in the SEALs, but said SOFA doesn't coordinate with any other groups.
"We're trying to link many of these organizations for a unified effort and, to a degree, they're like herding cats," said Mr. Zinke.
Though he knows there's "power in a unified message," Mr. Zinke said part of his reluctance to associate his group with other similar organizations is because, "SOFA is a little more cautious; we don't want to editorialize."
The Obama campaign criticized Special Operations OPSEC Education Fund Inc. as being akin to the "swift boat" attacks that smeared John Kerry in 2004 and noted that, despite claims of nonpartisanship, the group has ties to the GOP.  Mr. Zinke dismissed these criticisms of the former military groups attacking President Obama.
"There's going to be attempts to discredit," Mr. Zinke said. "I guess when you take a stand, you expose yourself to rocks. And so be it."
For his part, Mr. Zinke said his organization is "not swift boat."
"I can speak for SOFA—we are not swift boat in that what we are articulat[ing] is factual, and we're very careful not to make personal attacks. We are making a complete argument of why the administration's actions and policies are not in the best interests of national defense and national security," said Mr. Zinke.
Special Operations for America's upcoming plans include a television commercial. Mr. Zinke said the ad would be "edgy," but wouldn't be "a personal attack."
"I don't stoop to personal attacks," he said. "You know, I'm not from Chicago. In Montana, we do things a little differently."
Watch the Special Operations OPSEC Education Fund Inc. video, "Dishonorable Disclosures," below.
[youtube http://www.youtube.com/watch?v=X-Xfti7qtT0]