In case you missed it, the Seinfeld Food Truck–part of the Jerry Seinfeld Nostalgic Brand Experience™–was in New York today as part of its regional tour across the country. Parked outside of the PIX11 Studio (and baring the local station's logo on the truck) in Midtown from 12-2 p.m.
The mobile food station served real Seinfeld-inspired food, like muffin tops (Episode: The Muffin Tops), junior mints (Episode: The Junior Mint), black and white cookies (Episode: The Dinner Party), Twix (Episode: The Dealership), Snapple (Episode: The Visa), and bottled water (not from any episode.) Of course, the pièce de résistance was mulligatawny soup Soup (Episode: The Soup Nazi), served by Larry Thomas, the actor who played the iconic chef on the show.
Here is one excited fan's video experience of the event:

http://youtu.be/W3Y2xd7h5w8
You'd think that people wouldn't stand in line to receive food that the show advertised as vomit-inducing (the cookie), accidentally dropped inside an exposed body cavity during surgery (Junior Mint), or served by a fascist, but you know how fans are.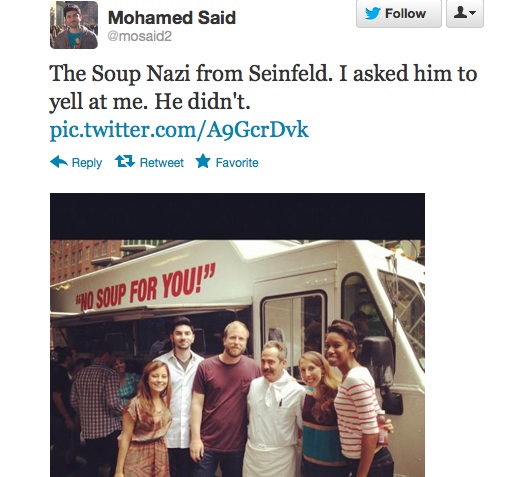 They are insane.