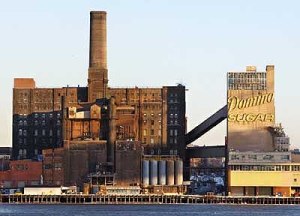 During our conversation with Two Trees managing director Asher Abehsera on the success of the firm's massive Mercedes House project, we turned briefly to the topic of the Domino sugar refinery in Williamsburg.
As we previously reported, Two Trees is rethinking the entire Domino project, including the controversial move of how much affordable housing to include. We asked Mr. Abeshsera how things are progressing. According to him, the planning process is just getting under way.
Domino is really about us working internally and optimizing the best development plan and also working with the powers that be to make sure it's something we're all excited about executing, that's good for the city and good for everybody. It's so big, you can't—right now we really don't know.

You think about in what's the best and highest use? Obviously the previous owners, well, they're still the owners until we close, but maybe their plan wasn't the most viable for the site, and paying homage to the culture of the area, and, more importantly, what people want, and we do a very good job at that.

So the honest answer is, we're thinking, creatively about how can we use the footprint, how can we use the allowable FAR, how can we use the market-rate component, the affordable component, and come up with the most exciting project, that's well program and that's not too saturated in one respect or another. Programming is the real word there right now, we're focusing on how to program it right now.
Should be an interesting one to watch.