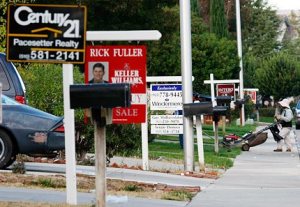 For many U.S. homeowners, it's been a long, slow crawl out of the depths of the housing crisis. Even with housing prices rising again and inventory falling in many U.S. cities, many homeowners are still trapped with underwater mortgages and rather bleak prospects when it comes to unloading their greatly devalued homes.
It comes as a small consolation, then, that some six years after the crisis started, the Federal Housing Finance Agency is making it easier for homeowners to conduct short sales, The Wall Street Journal reports.
Short sales—or selling a home for less than the outstanding mortgage amount—aren't a particularly cheerful prospect for either a homeowner or a loan-holder, but they're often the best solution to severing the ties between a homeowner and a property that he or she can no longer afford to, or want, to stay in.
The process for conducting a short sale involves a complicated negotiation between banks and homeowners—a process that few homeowners are able to wrangle, often because loan holders have little incentive to approve a sale that will mean a loss of income.
But starting Nov.1, homeowners who have missed mortgage payments or have other serious financial problems will need to submit fewer documents for approval. Lenders may also approve short sales without Fannie Mae and Freddie Mac's approval if the borrower is suffering financial hardship (divorce, death, job loss or long-distance job relocation).
The regulations will also limit payments made that homeowners make to loan holders to $6,000, to stop loan holders from holding up transactions by demanding more money to approve short sales.
We wonder what John Cusack thinks of all of this.
kvelsey@observer.com