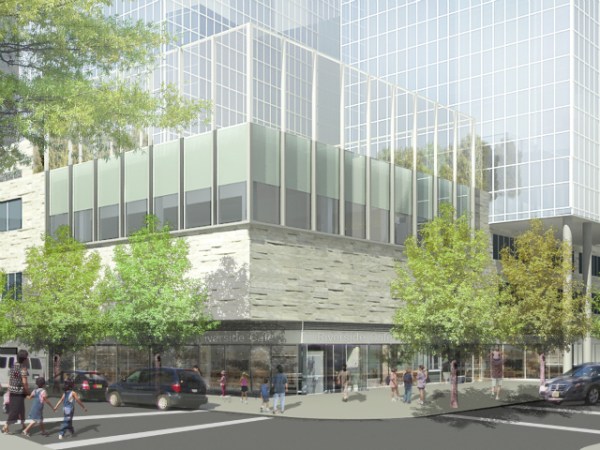 We already know that the DMZ between the Upper West Side and Hell's Kitchen (call it Lower West End Avenue?) is a happening spot, with the Walentases, the Dursts, the Elghanyans, basically everybody building a slick new project over there. The biggest, of course, is Riverside Center, Gary Barnett's massive reimagining of the final plots of the Riverside South complex.
Earlier this week, Extell returned to the local community board with plans for affordable housing in the project, according to DNAinfo, and therein he revealed the latest detailed designs for the Christian de Portzamparc-created project.
Construction at Riverside Center is expected to start on the first tower, known as Building 2, at the corner of Riverside Drive and West 61st Street, in November, pending city approval.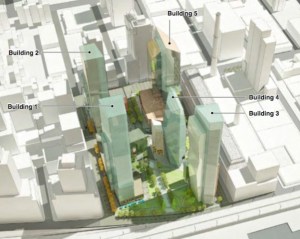 Twenty percent of the building's 616 units are slated to be affordable, ranging between $529 for a studio and $1,009 for a three-bedroom apartment. Qualifying families must earn between 40 and 50 percent of the annual median income in the city, which is between $23,000 and $43,000, depending on household size.
The board generally looked favorably on the project, though, naturally, there were calls for even more affordable housing.
Update: The project is actually being developed by the Dermot Company and designed by SLCE, not Mr. Barnett and Mr. de Portzamparc. The parcel for building 2 has been sold off to the former firm following a public approval process involving the latter—where the public quite liked the work of Mr. de Portzamparc. Now that he has been switched out, it will be curious to see what people think.