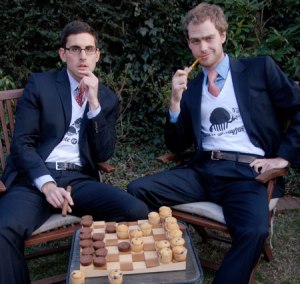 Ben Gifford graduated from Dartmouth in 2010. He sought work teaching in Asia, but those kinds of jobs don't exactly grow on trees, so he went to work for Bridgewater Associates. But life at the $125 billion hedge fund didn't exactly agree with him, and after a year and a half at the firm, he decided to pursue other dreams.
Such as? As a high schooler in Newton, Mass., Mr. Gifford and childhood friend Sean Pears had an epiphany. A bakery could sell muffins, and give customers the chance to flip a coin. Heads, they get a second muffin, free. Tails, just one muffin. Double or Muffin!
After Mr. Gifford left Bridgewater, the duo registered a domain name and started testing recipes (according to The Dartmouth, in that order). They hawk their wares in the San Francisco area.
Does anyone ever want more than one muffin?
Wrong question! (A question for Ray Dalio's Mr. Gifford, perhaps.) More fruitful queries: which band gave the pair its biggest marketing hit when the front man wore a Double or Muffin T-shirt in a music video? (Timeflies.) Which social media site gave the Double or Muffin website an early traffic boost? (Reddit.) Where will wordplay take Mr. Gifford next? According to The Dartmouth:
"I wouldn't want it to become a chain or anything like that, but having a handful of establishments in select locations across the U.S. would be awesome," Gifford said. "Someday we may also go international. I've already laid the groundwork for Double or Muffin's Argentine cousin, Todo o Empanada."
(H/t Dealbreaker)