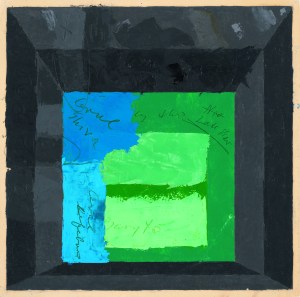 Walking through "Josef Albers in America: Painting on Paper," a revealing show at the Morgan Library consisting of over 60 messy, rarely seen studies by the famed painter and educator, is a bit like peeking into the medicine cabinet of a sleek, high-end modernist bathroom. What at first looks smoothly impersonal is revealed to contain a pharmacopeia of neurotic, experimental and even mystical obsessions. Albers's nested squares are modernist icons, but you would be surprised at what goes on beneath their surfaces.
>> More works from the Morgan Library's exhibition.
Albers, a professor at the famous modernist Bauhaus school in Dessau, Germany, came to America in the 1930s, part of a wave of artists and intellectuals who were fleeing fascism. Not that he remained in one place; dozens of oil sketches and photographs from his time in Mexico—including the painting "Variant/Adobe" (1947)—show how the geometry of the stucco houses there influenced the twinned shapes of his early color studies. Rather than abstract, Albers's work suddenly looks architectural, or even anthropological. The rubbed, matte glow of his finished painting surfaces owes much to the material burnish of the stucco houses for which they are named, too. A wall of false starts includes paintings in which Aztec-derived decorative forms, figuration and perspectival depth play roles, like Study for Marching Xs (1940) with its shapes scratched messily into oil with the back of a paintbrush.
Yet the paintings quickly settle on a single project: the "Homage to the Square." Albers's iconic series of three or four nested squares—each a different color, the shapes sinking slightly on a depthless plane like so many geometric Russian dolls—is a motif so familiar that we forget the circumstances of its invention.
He began these pieces, which would feel equally at home in a Cooper Union classroom and a Mad Men office, around 1949 in black and white, and for the space of one small gallery they remain colorless. The single completed painting in the show, Homage to the Square A (1949), is all in grays; it calls to mind Malevich's famous white square. Four times larger than its neighboring study, the finished work is still the scale of an easel painting. The paint application—licks of oil pressed firmly on Masonite with a palette knife—is wristy, not rolled.
Soon, though, color became everything to Albers. His arrangements (green, turquoise and maroon; pink-orange on brick-red) seem so inevitable, it is revelatory to see them as provisional. Albers didn't mix his paint, so little dashes of color on the drawings are test patches straight from the tube. The works' tangerine, pink and yellow on gray, or purple, gold and pink with green and blue combinations, walk you through Albers's obsessive investigations into how tones interact.Some have little jottings around the margins: you can see commercial names of colors recorded in his spidery handwriting. ("Chrome Ox" is undoubtedly Chromium Oxide, but other names are harder to make out.) His ready-made colors include brand names; he wrote about "Coca-Cola red," and his connection between the industrial and the sublime reflects the German modernists' ease with blending craft and fine art.
Color is malleable, and Albers could make one look like two, or two look like one; he could make a square seem transparent, or a shape seem big or small based on its shade. "I'm especially proud when [I can make] colors lose their identity and become unrecognizable," he wrote, and delighted in the puce-y purples that looked violet next to yellows and brown next to blues. His experiments might initially appear mechanical, but because they rest on visual perception, the paintings are, ultimately, sensitive to that gap "between physical fact and the psychic effect," as he described it, which reveals how ready to be tricked our eyes and bodies are, especially when the results are pleasurable.
And here, they are. You'd have to be colorblind not to get slightly giddy going from one gently messy color study to the next. Pieces like Study for Homage to the Square with Color Study show the master thinking in shades of sherbet on gray. Yet his project raises some questions: given the Bauhaus preference for ready-made colored paper (for its tonal precision, lack of texture and ease) rather than pigment and paint, why did Albers paint his paper by hand? What is going on in the gray, green and blue Colored Study for Mitered Square, in which the painted diagonals in the corners vignette in like a box, creating a perspectival depth to the work?
These works on paper are drafts, with all the cutouts and cross-outs of scribbled page proofs from a literary estate; they were never meant to be displayed. Unlike some writers, however—Raymond Carver comes to mind, in his relationship with Gordon Lish—Albers was his own editor, and his editorial process was rigorous. His famous book, Interaction of Color, is full of scientific terms like "discover," "experiment" and "trial and error," a technical vocabulary and utilitarian approach he insisted upon even when art-making in America was rife with the intuitive expressivity of Jackson Pollock's splatter. This show of some 200 colored squares suggests the real freedom and possibility that comes from mastering the precise parameters of your project.
Albers died in 1976. At least as influential as these paintings was his work as a teacher, the pedagogy that Albers imported from the Bauhaus to Black Mountain College, and later brought to Yale when he was made chair of the graduate art program. Eva Hesse and Cy Twombly were his students, Sol LeWitt and Donald Judd his heirs; Robert Rauschenberg said "I consider Albers the most important teacher I've ever had." Albers's optical experiments have made possible great and influential painters like Bridget Riley and Mary Heilmann, and he is the mold from whom color-obsessed educators like Peter Halley spring. Mark Grotjahn's vertiginous abstractions, Ruth Root's winking modernism, NYU's color pedagogue Jesse Bransford and the op-ornamentalist Doug Melini point to his legacy in various ways. Yet you wonder how many on this list would look even better—odder, more rigorous and wilder than previously suspected—if we hung only their studies and outtakes.
By focusing on the slight and the unofficial, this show, which was organized by the Staatliche Graphische Sammlung in Munich and the Josef Albers Museum in Bottrop and adapted for the Morgan by Isabelle Dervaux, gives us a new take on a major artist we thought we knew too well. Along with recent exhibitions of Philip Guston, Roy Lichtenstein and Dan Flavin, it confirms the Morgan's place on the map for those in New York who want a smart new angle on postwar masters. In a city with a few dozen established museums devoted to modern and contemporary art, you'd think this would be a tough game to get into, but the Morgan has shown that with a good eye for the right show, and fine new Renzo Piano-designed galleries in which to mount it, the field is open: if you build it, they will come.
editorial@observer.com