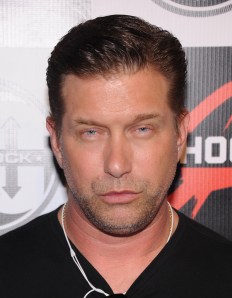 TAMPA, Fla. — If outspoken actor Alec Baldwin runs for mayor in New York, his little brother, Bio-Dome star Stephen Baldwin, would vote for him. However, the younger Baldwin sounded decidedly unenthusiastic about the prospect of his sibling in City Hall when we asked him about it outside the CNN Grill at the Republican National Convention yesterday.
"I really wouldn't have much of a choice. Would I? Being a New York resident and he's big bro, so yeah, he gets my vote," Stephen said.
Stephen Baldwin is a self-proclaimed "Jesus freak evangelical charismatic born again conservative independent," with far different political views than his notoriously liberal brother. Because of this, Stephen initially suggested he might run against his brother when word got out that the elder Baldwin was considering running for mayor.
A few months after his mayoral ambitions were first revealed, Alec said he would sit out the 2013 mayoral election in order to film the most recent season of NBC's 30 Rock and enroll in a master's degree program "to help me better understand what the fiscal imperatives of that job are." According to Stephen, his brother absolutely still has his eye on City Hall.
"I definitely think he's interested at some point in the future, just the question would be when. He's newly married now, so I think he's trying to just relax and enjoy himself," Stephen said.