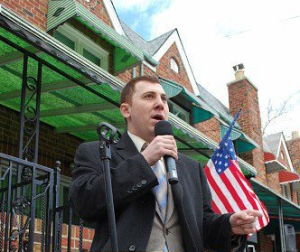 State Senator David Storobin, campaigning for reelection against former City Councilman Simcha Felder, won his court case this afternoon. Mr. Felder alleged fraud issues should remove Mr. Storobin from the Republican and Conservative lines. Notably, Mr. Felder pointed to the presence of a dead woman's signature where Mr. Storobin himself was the witness. However, the judge did not find the evidence compelling enough to throw Mr. Storobin off the ballot and allow Mr. Felder, a Democrat, an especially easy election in November.
"Accordingly upon a review of the credible evidence during the hearing, the court finds that the petitioner has failed to meet his burden of establishing clear and convincing evidence that Storobin partipated in or was chargeable with knowledge of any fraudulent activity," the court ruled. "It is hearby Ordered that the petition to invalidate respondent's designating petition is dismissed."
For their part, Mr. Felder's campaign stated their disappointment in the ruling, but said the legal fight isn't over yet.
"We need to clean up the system," campaign manager E. O'Brien Murray said in a statement. "We cannot have public officials, particularly those who are lawyers telling lies under penalty of perjury and then saying oops when they are caught. David Storobin signed a document that said he witnessed the signature of a dead woman, when he knew the signature that he had witnessed two hours earlier was that of non-citizen male construction worker. Then to support his lie he crossed out the address of the construction worker and replaced it with the address of the dead voter. That is more than a mistake. He is a public official and an attorney who made a representation that is too important to be simply labeled an innocent mistake."
He added, "We are appealing."
His campaign isn't the only one in southern Brooklyn appealing decisions either. Moshe Tischler, running against Assemblyman Dov Hikind in the Democratic primary, filed an appeal today in a second attempt to knock Mr. Hikind off the Conservative Party line.
View today's ruling below:
[scribd id=102778589 key=key-27lmcnztrk2kxahna3r0 mode=scroll]