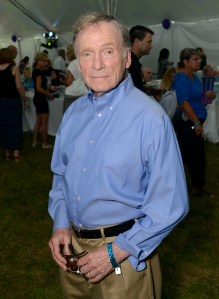 The Observer put down our book last Saturday and ventured out to Gardiner Farm for the eighth annual Authors Night at the East Hampton Library. By the time we arrived, a plethora of library patrons—evidently undeterred by the cloudy skies—swarmed the tent in hopes of chatting up their favorite writers.
Hosted by library benefactors Alec Baldwin and Barbara Goldsmith, the reception boasted a guest list of more than 100 authors—everyone from the former Real Housewife of New York Kelly Killoren Bensimon, author of the "supermodel diet" book I Can Make You Hot, to the esteemed Lyndon Johnson biographer Robert Caro. Literary aficionados of all breeds meandered between tables with plastic cups of wine, accumulating stacks of personally inscribed hardcovers.
Sitting beside a large pile of copies of his second autobiography, Dick Cavett appeared to be thoroughly enjoying the attention of a throng of admirers and photographers. As we approached, he spontaneously grabbed both sides of our head and pulled us in for a dramatic kiss on the cheek. "I just wanted to give the photographer a thrill," he whispered, a gleam in his eye.
Mr. Cavett groaned when we asked what was on his summer reading list. "I'm not going to be able to think of the author's name and it kills me," he said apologetically. "It's the best book ever written about Little Bighorn … It makes all other books, and there are some 200 on the subject, worthless.
"I've gotta find the author … Oh God, you've ruined my evening!" he exclaimed good-naturedly. "I'll tell you what you can do. Go to Amazon, type 'Custer,' and it's the one with the view of the river." (We believe he was referring to Jim Donovan's A Terrible Glory.)
We stepped outside to join Martin Amis for a cigarette. He told us he was also taking advantage of the summer to catch up on some historical reading. "I'm writing a short novel that has to do with the Holocaust, so I'm reading all about that. But I'm always, always reading about that," he trailed off.
"And I'm also going to go to the Republican convention in Tampa and write about it for Newsweek, so I've been following that," he said.
Mr. Amis explained that much of his summer has been consumed with work surrounding his most recent novel, Lionel Asbo: State of England, which is out next week. "It's all slightly a distraction, because the book you're interested in is not the one you finished last year, but the one you're writing now. So it's a bit like being hired by a former self."
We asked whether he was sick of people asking him about Brooklyn—the British writer moved into a Cobble Hill brownstone with his family nine months ago. "I would be, if I weren't liking it, but I am, so I don't mind," he said. When we inquired about his favorite local restaurants, he explained, "We're not very foodie. We have two teenage daughters who want to get fed quickly and get out."
A.J. Jacobs was more revealing about his own eating habits as he eagerly told us about his latest stunt book—Drop Dead Healthy: One Man's Humble Quest for Bodily Perfection. "I basically spent two years trying to revamp every part of my life, like diet, exercise, stress level, sleep, sex life, the whole thing," he explained.
He didn't have to think much to answer what the hardest part of this endeavor was. "The juice fast!" he exclaimed, explaining that he made his wife do it too. "It was a three-day juice fast and she lasted literally three hours," he said, laughing.
"My favorite part was writing the book on a treadmill," Mr. Jacobs informed us, advocating the various benefits of walking while typing, improved concentration being chief among them. "Now, when I try to work sitting down, I fall asleep," he admitted, adding "You should tell them to buy you all treadmills at The Observer!" (We'll pass.)
We had heard that the book included a section on how to burn more calories while having sex and asked Mr. Jacobs whether he had any advice to offer. His response was, unfortunately, a little vague, as he explained it had to do with "different positions," assuring us that "missionary is one of the lower calorie-burning" options.
Celebrity sex-therapist Ruth Westheimer didn't offer us any more insight on this point, but did reveal that she'd just finished all three volumes of the Fifty Shades trilogy. "I thought it was very interesting because what it proves is that women can be aroused by literature," she said conclusively, as if this assumption were up for debate. We asked her to weigh in on the disputed sexual progressiveness of the series, asking whether she felt there were any negative consequences to the books' popularity.
"No. First of all, the woman that was involved was of age," she said firmly, referring to the book's narrator, Anastasia, who becomes involved in a BDSM relationship with a wealthy entrepreneur. "And secondly, whoever doesn't like some subjects, turn the page."
The best-selling novelist David Baldacci told us about his own pop-literature indulgence, Harry Potter. Though his own kids are now in high school and college, Mr. Baldacci assured us that he'd spent many years reading and listening to all the books in the series on tape. "Jim Dale is the world's greatest reader," he reminisced fondly. We asked whether he was looking forward to J.K. Rowling's first adult novel, The Casual Vacancy, which will be released next month. "I'll be reading it probably the first day it comes out," he said.
The one writer who didn't seem to have a summer reading list was New York Times financial journalist Andrew Ross Sorkin, author of the best-selling chronicle of the 2008 financial crisis Too Big to Fail. "Oh god, this is so pathetic," he said when we approached him, explaining "I have kids right now, so I haven't been reading anything … Elmo, we watch Elmo, that's what we do." He thought some more. "I wish I could give you some books! If my wife was here, she'd tell you there are some books that I've read, but now I can't even think of them," he said apologetically, evidently relieved when another admirer approached with a book for him to sign.
eschwiegershausen@observer.com