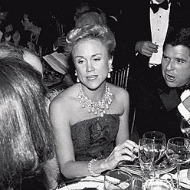 The problem with getting what you want is that sometimes, once you have it, you don't want it anymore. The Observer has learned that Libet Johnson is looking to offload the Vanderbilt Mansion, the stately neo-Georgian mansion at 16 East 69th Street that she spent $48 million to buy scarcely more than a year ago.
Sources tell us that Ms. Johnson has been quietly shopping the townhouse around, hoping to sell for a price in the mid-$50 million range. Which does not come as a huge surprise—the heiress to the Johnson & Johnson fortune and the sister of NY Jets Owner and Romney bundler Woody Johnson has a reputation for falling in, and out, of love with extravagant real estate. She bought the townhouse, sans broker, from her friend and fellow heiress Sloan Lindemann Barnett and Ms. Barnett's husband, the founder of beauty.com. What's a $48 million townhouse between friends?
So what new gem caught the heiress's avaricious eye? Sources familiar with the matter have told us that Ms. Johnson fell hard for Huguette Clark's eighth-floor apartments at 907 Fifth Avenue, but lost the late copper heiresses' spread to private equity chief Frederick Iseman. The Central Park-facing apartment and a few rooms of the smaller apartment are currently in contract for $22.5 million. Mr. Iseman, the CEO and chairman of CI Capital Partners, is still awaiting board approval. And you know how those can go, so no doubt Ms. Johnson has her fingers crossed.
One broker expressed disbelief that Ms. Johnson would want an apartment in 907 Fifth—which the broker sniffed was not the kind of A-type building the heiress usually goes for—but we suppose Ms. Johnson felt a kind of kinship with Clark  and her estate, even if the socialite Johnson and the reclusive Clark would appear to have little in common other than their vast family fortunes. More likely, Ms. Johnson was just looking for something new to occupy her time.
As far as the Clark apartments go, the ranks of the rebuffed grow more illustrious by the day—Ms. Johnson joins Qatari prime minister Sheikh Hamad bin Jassim bin Jaber Al Thani, whose $31.5 million bid for all of both apartments in May was reportedly rebuffed by the board.
Will Ms. Johnson be able to sell the Vanderbilt mansion and make a little money in the process? The Stanford White mansion at 973 Fifth Avenue—a gilded age truffle of a townhouse—sold $42 million in June, and it required major refurbishment. But before Ms. Johnson swept in last May, the home had been lingering on the market for some time at $48 million. And while brokers say that the 1881 home and its Peter Marino-designed interiors are lovely, they note that it's rather dark inside and the brick facade less elegant than that some of the city's top limestone townhouses.
At the time of the sale, it ranked as the most expensive deals since the recession hit and the most expensive townhouse since J. Christopher Flowers set the previous record with his purchase of the Harkness Mansion for $53 million in 2006. Last year, Larry Gagosian scooped up the place for $36.5 million.
And it's not even the only townhouse that Ms. Johnson, or at least her family, is trying to sell. A five-story West Village townhouse at 85 Perry Street, owned by Falconer LLC., a oft-used screen for Libet and her close kin, has been publicly listed since May with Stribling's Pamela D'Arc. Falconer is apparently extremely eager to be rid of the townhouse, dropping the $13 million ask to a mere $9.96 million this August.
Surely this is precisely the kind of situation where one's rich friends might come to the rescue and buy at least one of Ms. Johnson's real estate holdings?
kvelsey@observer.com