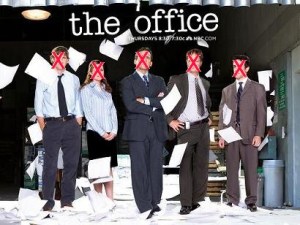 In the second major piece of NBC news today,  America's version of Ricky Gervais's mockumentary The Office is ending after a final, ninth season.
This is where the expression "to put something out of its misery" comes from, right?

The Office has been limping along for seasons now … even before the departure of the show's star, Steve Carell. (One could argue that the show lost its way once the tension of Jim and Pam's "Will they or won't they" relationship was resolved, which is probably why the British version ended after Tim and Dawn shared their first kiss.)
The last season made it clear that The Office didn't have that long to live: the ratings had dropped to those of its first, limping season, and many of Dunder Mifflin's staples already one foot out the door: writers/EPs/actors Mindy Kaling and B.J. Novak  announced they were on their way out to work on The Mindy Kaling Project; head writer Daniel Chun made a deal with ABC; former show runner Paul Lieberstein (who played beleaguered HR rep Toby Flenderson) was leaving with Rainn Wilson to work on a spin-off about Dwight; series stars John Krasinski, Ed Helms and Jenna Fischer hadn't renewed their contracts, and newcomer James Spader ended his contract early.
But at least The Office might go out with a bang. According to show runner Greg Daniels:
This year feels like the last chance to really go out together and make an artistic ending for the show that pays off a lot of the stuff that matters most to fans," Daniels said. "This will be the last season of The Office. And we're planning a very big exciting last season. We're going to have a lot of faces coming back … There are a lot of things that I've personally been wanting to do since season two … All questions will be answered this year. We're going to see who's behind the documentary … Now that we know we have an end date we can blow things up and take some chances and it will be very freeing, creatively."
That being said, Mr. Daniels himself only announced his return as The Office's show runner in July, after spending four years splitting his time as an executive producer of the cubicle comedy and it's time-slot follow-up, Parks and Recreation.