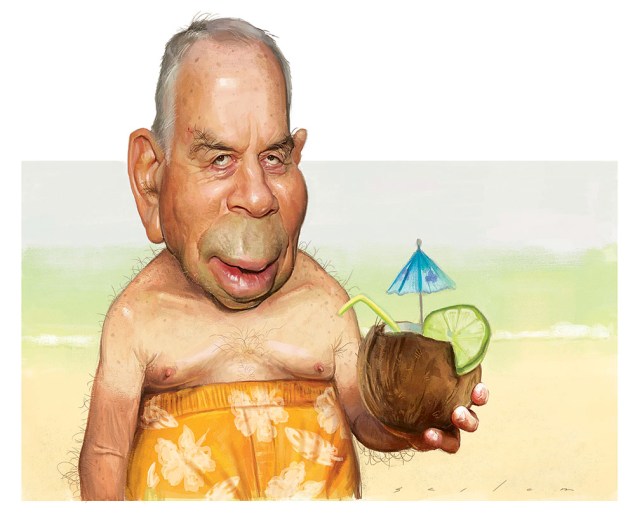 About six years ago, Tom Florio, then the publisher of Vogue, had an idea. He wanted to expand the fashion bible's brand into a new platform: online television. The magazine's discerning editor-in-chief, Anna Wintour, approved and Mr. Florio found blue-chip financial investors who did too. He'd been working on the proposal for nine months when he presented it to Si Newhouse, Chuck Townsend and other top Condé Nast brass.
"I hate it," Mr. Newhouse said.
Encountering Mr. Newhouse at a dinner party a few days later, Mr. Florio asked the Condé Nast chairman to elaborate on his abrupt dismissal of the idea.
"All that did was make money," the boss told him.
It's hard to imagine the executive who would utter such a sentence in today's economy (let alone one tasked with navigating the turbulent media market). But the story exemplifies what some say is the defining brilliance of Mr. Newhouse: his quickness to tear a book up, to unceremoniously fire and replace someone (see: Vreeland, Diana, or Mirabella, Grace), to say "no."
"He makes decisions based on what the essence of Condé Nast was," Mr. Florio, now CEO of Advanstar Fashion Group, explained.
It's certainly the signature trait that enabled him to build his stable of glossies into one of the most influential corporate architects of consumer aspiration. But as luxury print advertising—the company's lifeblood—continues to dry up, Condé Nast is reprogramming its top brass to say "yes": to brand extensions, such as e-commerce relationships (GQ and Nordstrom), membership programs (Lucky Rewards) and licensed merchandise (Bon Appetit for Home Shopping Network).
Though the 84-year-old Mr. Newhouse remains the company's chairman and is still regularly spotted in the cafeteria, insiders say his presence is less common and his day-to-day influence quickly waning. The upshot is that the editorial old guard of Condé Nast is losing its best defender, prompting some to wonder if it the company's "essence," the ineffable lustre that long captivated advertisers and readers, will survive its 2015 move downtown to 1 World Trade.
Some signs of drift are more apparent than others. Employees have become accustomed to the sight of busted banquettes in the once-gleaming Frank Gehry cafeteria, for instance. "That was the symbol of the luxury of the place," noted a long-time staffer, adding that the food has also become less appealing. "I think they just stopped caring," the staffer said. "I think something happened where they were like, 'I'm not spending any more money.'"
And according to some male editorial employees, even the elevator eye candy isn't what it used to be. As one put it, "You do sense that maybe one of the weird by-products of the 'Death of Print' is that girls in sundresses don't all flock here quite as much."
The result seems to be a corporate culture that has lost its edge. "You sense a little bit the loss of that swagger, the feeling that 'I'm working in some special place,'" the employee added with a sigh.
At this rate, how long will it be before the aroma of garlic—which Mr. Newhouse views with such vampiric scorn that it has been banned from the lunchroom—is wafting through the hallways?
***
THE ELDEST SON of self-made newspaper mogul Samuel Irving Newhouse, Samuel Irving Jr., aka "Si," knew a thing or two about aspiration. Born rich but chronically unstylish (surrounded by clotheshorses, he favors a sweatshirt), he left something to be desired as an heir apparent. As a student at Horace Mann and Syracuse, he was ambivalent about journalism, introverted and angsty, according to Carol Felsenthal's biography, Citizen Newhouse. Living in New York after dropping out of college during his junior year, Mr. Newhouse earned a reputation as the family's "crowned prince," racking up bills at 21 and the Stork Club while his younger brother, Donald, demonstrated an affinity for the family business at papers like the Newark Star-Ledger.
Condé Nast was an afterthought investment that Newhouse Sr. snapped up as birthday gift for wife Mitzi in 1959, and therefore not considered a suitable perch for junior. But it was there—under the influence of elegant and brilliant editorial advisers like Leo Lerman, the man of letters whose epic house parties earned him a spot on the Mademoiselle masthead, and Alexander Liberman, the Russian-born artist whose judgment even the most headstrong editors trusted—that Mr. Newhouse found his calling. Lerman and Liberman gave Mr. Newhouse access to the kind of artistic high society from which he'd previously felt excluded. Enthralled, Mr. Newhouse threw himself into the work, serving in positions at Glamour and Vogue, reading every line of the magazines, and to the chagrin of his colleagues, showing up before dawn.
When Liberman wasn't tearing up his editors' pages, he was teaching Mr. Newhouse what contemporary art to hang on his walls; the collection eventually earned Mr. Newhouse a spot on the board of MoMA. Liberman also imparted one of his signature managerial gifts: identifying talent. Mr. Newhouse watched Mr. Liberman lure Vreeland from rival Harper's Bazaar with the promise of a bottomless expense account, then made a name for himself poaching Tina Brown, the young editor of Tatler for his revived Vanity Fair.
Mr. Newhouse learned to spot gifted editors practically in utero. "It was often at such an early stage that other people didn't even realize it was talent," Mr. Florio said, recalling the days before Tina was Tina. "She was not all fancy and fashionable but she was wickedly irreverent, super brilliant and funny."
He then kept that talent on its toes by being selective and unpredictable with his attention.
"I always admired that in a board roomful of talking executives that he would quietly listen to what was not being said and then provide the most meaningful comment of the meeting," former Details publisher Steve DeLuca, now the publisher of Departures, told The Observer.
But while Mr. Newhouse's shifting affections made Condé Nast a hotbed of competition, where alpha salesmen (and tabloid regulars) like the late Steve Florio (Tom's older brother), Ron Galotti and Richard Beckman thrived, a series of appointments and hires over the past two years have dramatically altered the character of the company's leadership.
At the top, there's Chuck Townsend. An operations-minded backslapper whom sources say earned major brownie points when he streamlined the company by moving its back offices to Delaware, Mr. Townsend ascended to CEO and president in 2004 when Florio, who suffered from heart problems, stepped down. (He died from a heart attack four years later.)
Two years ago, Mr. Townsend relieved himself of the president half of his job title, handing it off to Bob Sauerberg, Condé Nast's top consumer marketer (thank him for the subscription cards all over your apartment floor), with whom Mr. Townsend had worked at The New York Times Magazine group in the '90s. Mr. Sauerberg was tapped just as David Carey, a brainy publisher credited with turning The New Yorker around, departed for rival Hearst and dynamic personalities like Mr. Florio (Steve's brother) and Mr. Beckman fled in search of CEO gigs.
According to insiders, Mr. Sauerberg promised the Newhouse family board that controls the company that he would bring in millions in non-advertising revenue, while magazine publishers would continue to report to Mr. Townsend. Mr. Sauerberg's appointment signaled a sea change. In a 2010 internal memo, he foretold "a consumer-centric business model, a holistic brand management approach and the establishment of a multi-platform, integrated sales and marketing organization."
In the two years since Mr. Sauerberg took over, he's significantly reconfigured the top of the company to look less like a magazine publisher, and more like a sales and marketing organization, inventing at least three new positions and eliminating dozens more. First, parent company Advance Publications hired a Yahoo! mergers-and-acquisitions executive, Andrew Siegel, to serve as "senior VP, strategy and corporate development," i.e., "Find us the next Pinterest, please." Next, it invested heavily in a brand-new entertainment division to translate so-called "premium magazine content" into television and movies. Almost a decade after Vogue sniffed at Bravo when asked to participate in Project Runway (Elle and Marie Claire happily took part, garnering immeasurable publicity for their efforts), Mr. Sauerberg tapped Dawn Ostroff, the woman behind America's Next Top Model, to run the new division. In the spring, Condé Nast poached a Lancôme executive, Gillian Gorman Round, to be the first-ever VP of brand development, meaning "e-commerce, membership programs, video, product and sampling."
The new management structure crowds out the once-crucial editorial director. Liberman hand-picked his replacement: James Truman, the natty, British-born editor who successfully reinvented Details as a proto-lad-mag for marketing-averse Gen Xers. Projecting an aura of millennial cool, he carried the torch for editorial ambition—and its handmaiden, expenditure—up to the brink of the print downturn (and he oversaw the design of that cafeteria). But after Mr. Newhouse used his "no" on Mr. Truman's proposed art magazine, he left. The position still exists, but it is held by Tom Wallace, a veteran newspaperman and the former editor-in-chief of Condé Nast Traveler. Unlike his predecessors, Mr. Wallace is said to have a mind for budget-conscious as opposed to "visionary" editorial content. Meanwhile, as Condé Nast searches for new revenue streams, it seems to be performing triage internally, siccing Bill Wackermann, an old-school charismatic publisher, on Condé Nast cash cow Glamour, for example.
Critics note that Mr. Sauerberg's slew of new divisions have yet to yield anything lucrative, and the new team's mandates are only growing more urgent as Condé Nast's core businesses fade. Earlier this month, CMO Lou Cona laid off much of the company's print corporate sales team, including the leader of its brand management service, Ideactive. September issues came in light this year, with the exception of Vogue, and publishers were asked to trim their budgets by 10 percent, according to WWD. Like any Condé Nast insider to climb to the top of the heap, Mr. Sauerberg has quickly become the subject of ouster rumors, but it's early yet. More important, it's hard to discern who will be judging his efficacy. The changing business model of Condé Nast combined with dramatic shifts at other arms of Advance Publications have renewed a decades-old media parlor game: speculating about Mr. Newhouse's succession.
According to Thomas Maier's Newhouse, a long-standing tax loophole (the subject of a failed $1 billion IRS lawsuit in the 1980s) will expire with the passing of Sam Newhouse's sons, leaving the third Newhouse generation with an unprecedented tax burden, which it will have to "rally to overcome." Mr. Newhouse has said that his first cousin Jonathan, who runs Condé Nast's lucrative international business, will replace him, but Jonathan is said to be happily stationed in Europe. At Advance Publication newspapers in Michigan, Louisiana and New Jersey, Steven Newhouse (Si's nephew, long identified as the third-gen Newhouse to watch) has proven himself a savvy businessman who little relishes underwriting a failing business model. He has reduced the frequency of the family's print newspapers, focusing their pared-down staffs on digital platforms instead. Steven's wife, Gina Sanders, is the CEO of Condé sister Fairchild and well-liked by top Condé Nast editors, making her a favorite internal candidate to replace Si.
While the next generation seems equipped to face Condé Nast's new economic realities, however, it may no longer have the motive. As Condé Nast diversifies its business, distancing itself from the glamorous magazine company that became an improbable home for the family's misfit patriarch, a once-unthinkable sale may be far less painful.
"Elegance is refusal," Diana Vreeland pronounced, back when she was in Si's good graces. Then again, acquiescence does have its advantages.