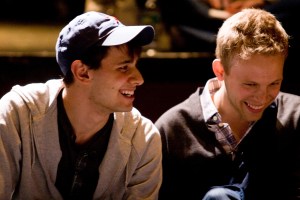 The morning after their official arrival on the New York theater scene—true to the showbiz edict that George Abbott passed down to Harold Prince—Benj Pasek and Justin Paul scheduled a meeting for a new show. This is the established, industry-wide Rx for warding off any hangovers caused by booze or bad reviews, and these two newbie songwriters, both 27, happily hark back to old rules.
You can't say they never sang for their fathers—or, for that matter, for their grandfathers. Dogfight, their Off Broadway dual-debut, playing till Aug. 19 at Second Stage, is set in the early '60s. ("It was a tough time for us," muttered Mr. Pasek, dropping his voice to a lower register as if that masked the fact that he was born in 1985.) Their Broadwaybows come exactly three months later (Nov. 19 to Dec. 30) at the Lunt-Fontanne with A Christmas Story, The Musical!, which jumps back 20 more years to a mid-'40s Yuletide.
Whether Pasek & Paul become this millennium's Lerner & Loewe remains to be seen, but they are on the right track and coming at a respectable speed out of the University of Michigan's theater department, old school ties flapping in the wind.
"We developed an appreciation for all those classic musicals and began to really analyze them and try to figure out what made them so great," Mr. Paul explained. "Not that we write in their style necessarily, but we understand their craft."
They went there performers and came out songwriters—primarily because both have two left feet, making dance class an embarrassment. Songwriting became their preferred form of expression, an outlet to relay what they were going through while edging toward maturity, and a song cycle emerged called Edges.
The show surfaced in 2005, the year of Facebook and YouTube, and quickly developed an online life, one that led, within a year, to productions at 12 other colleges. A vocation had found them, and, as Edges grew, they shopped around for properties.
Enter Peter Duchan, a friend of Mr. Paul's from his Westport Elementary days. They placed their order with him—something youthful, with energy, that felt American—and he trolled Netflix until he finally found a film where all those elements aligned.
The easy-to-overlook Dogfight, released in 1991, is a first-love story, premised on a mean-spirited prank: some young Marines, bound for Vietnam, throw a party their last night in San Francisco, and the jarhead with the ugliest date wins the collective pot.
The most sensitive of the lot, Eddie Birdlace (River Phoenix) sets his sights on plain-jane waitress Rose (Lili Taylor), who, unfortunately, cleans up so well he starts feeling guilty, and falls in love. Sections of the plot that follows are whopping wounds of vulnerability that are negotiated gingerly, helped out a lot by pockets of unexpected humor. It's a sweet heart-twister.
The film never got far beyond the front row of admiring critics. Director Nancy Savoca, who recently returned to filmmaking after a 12-year absence with the Mira Sorvino-Tammy Blanchard Union Square, was their darling back then, but their rave reviews didn't help. It was grossly (or, more to the point, grosslessly) underattended.
Which is a plus for Mr. Paul. "A little gem very few people know about—that's very freeing, actually. It meant we could change the story without having people wait for The Line that they remember from the movie. It was just what we were looking for."
With Mr. Duchan aboard as book writer (doing a commendably close approximation of Bob Comfort's original screenplay), they pursued the musical rights as a team and, in time, acquired them from Warner Bros. "We worked on it for three and a half years," Mr. Pasek said. "For a musical, that's actually less time than others take."
Soon enough, their music reached the ears of director Joe Mantello. "I heard three songs from the show years ago, and, on the basis of that, I met Justin and Benj," he recalled. "We went and had lunch, and I just said, 'I think you guys are great, and somewhere down the line, if we can find something to do together, I'd love that.'"
Dogfight, it turned out, was down the line, and the director, a two-time Tony winner (Assassins, Take Me Out), didn't hesitate, shepherding the project with a knowing hand. "It has been so exciting to collaborate with three people who are at the very beginning of their careers. Their enthusiasm, their optimism—infectious!"
The feeling was mutual. "It was a master's class in grad school every single day," in Mr. Pasek's view. "Joe really took it and shaped it and molded it. Truly, it was an amazing learning experience, a joyful collaboration. We're so grateful for it."
Messrs. Pasek and Paul aren't trying to find their own voices in their work. They are trying to find character, period, situation, the right emotion needed for the moment. A show score with melody, maturity, variety and surprise—one that impresses on first hearing and improves on the second—is so rare in musical theater these days that almost every critic caught it on the first bounce and duly noted it.
"The tunes that the songwriters have penned for character not only bring to mind the anthems of the era, but they also zing with the sounds of contemporary musical theater," wrote Andy Propst in The Huffington Post. And Ben Brantley ended his Times review with a nice bouquet to "First Date/Last Night," "a winning low-key date song for the couple, finding melodic grace in romantic awkwardness."
The only critical cleating the score got came from the New York Post's deaf-as-a-post Elisabeth Vincentelli, who found it "terminally dull" and "irritatingly polite." Still missing the point: "That guys in their 20s could write such fuddy-duddy songs is baffling. And they keep winning fancy fellowships—only in musical theater, folks!" (Could it be that the people who voted the 2011 Richard Rodgers Studio Production Award to Dogfight—Stephen Sondheim, Jeanine Tesori, David Ives, John Guare, Lynn Ahrens, Sheldon Harnick, John Weidman and Richard Maltby Jr.—know what they're talking about and recognize that these 20-somethings do, too? Just asking, Elis . . .)
Framed as a flashback, Dogfight begins with a soldier-boy limping back from the war, returning to the scene of his betrayal. "Some Kinda Time" starts out on a folk-flavored guitar, pulling the past gently into focus, and then erupts into a boys-will-be-boisterous shore leave number like On the Town's "New York, New York" opener.
Essentially, there are four major characters—the three jokester jugheads played by Carrie's Derek Klena, Lysistrata Jones' Josh Segarra and Glory Days' Nick Blaemire, and the frumpy wallflower who blossoms from Klena's invite, Godspell's Lindsay Mendez—but these four are surrounded by a milling multitude, mostly fielded by three very funny and very skilled utility players: Annaleigh Ashford, Dierdre Friel and James Moye. Everybody in the show seems to have a song to sing.
Mr. Moye, who juggles six characters, from a drill sergeant to a transvestite, scores double as a hip-swiveling lounge singer: "Benj and Justin have written two songs that I sing in a very early-'60s style," he said. "One of 'em feels Chubby Checkerish, and the ballad definitely feels Andy Williams. It's fun stuff to get a chance to sing. These guys are obviously super-talented, and they have such a bright future."
Michael Starobin, who won a Tony for orchestrating Assassins, puts the songs forth to their best advantage, in particular underlining the Sondheim echoes of the title tune. A rant against male pack mentality, it is ferociously delivered by our heroine, played by Ms. Mendez, and Ms. Ashford's tough tart.
The favorite song of the two leads (and of the two men who wrote it) is also Mr. Brantley's pick: the lovely, lilting "First Date/Last Night." Said Ms. Mendez, "It's unbelievable to be able to debut a score of this caliber. Every song is so unique and special and fits the moment so perfectly. It's a dream to get to sing their stuff."
There are 16 songs in Dogfight, and A Christmas Story will go into rehearsal for Broadway with 17, but that may change, since Mr. Pasek and Mr. Paul plan rewrites.
The show was already off and running when the producers (among them, Peter Billingsley, who played the B.B.  gun-obsessed little Ralphie in the original 1983 film) decided to switch scores in mid-tour. Mr. Pasek and Mr. Paul were among those who were invited to come in to audition, and one of the things they came up with is now the show's exuberant curtain-raiser, "Counting Down to Christmas."
"It was a perfect framing device," recalled John Bolton, who has put in a couple of years on the road playing the hapless head of the household. "The score has a great deal of variety. They wrote '40s idiom, radio idiom, Christmas idiom, a burlesque idiom for the dad's big leg-lamp number called 'A Major Award,' the cowboy idiom for Ralphie's fantasy number, 'Red Ryder,' the little boy's 'I Want' number, which comes right at the top of the show and is a showstopping song for a powerhouse kid.
"They write for characters just so beautifully. The kids sound like kids. The mom sounds like a mom. The dad sounds like the dad. The teacher sounds like the teacher. They write so smartly and, I think, thrillingly for character—with great regard for how much muscle is needed for a particular moment in the show. I genuinely believe this score that they've written is not just a serviceable score for a contemporary holiday show, but I believe it to be a classic American score."
So one doesn't think they're always running off to the movies to get musical ideas, Mr. Pasek pointed out that A Christmas Story wasn't their idea, that they were brought aboard by the producers of the show. "We're trying to develop our own original ideas as well and strike a good balance of doing original work and also adaptations."
In 2010 they did a musical adaptation of Roald Dahl's 1961 children's book, James and the Giant Peach, and it premiered at Goodspeed's Norma Terris in a developmental production that was directed by Graciela Daniele and choreographed by Pilobolus.
Then there's that new show. "We're beginning our first full book musical that's an original with a playwright named Steven Levenson, who wrote The Language of Trees and The Unavoidable Disappearance of Tom Durnin," said Mr. Pasek. "He's around our own age, too, so we're very excited to be collaborating with him."
Ah, youth—when everything is possible. Is there a song in that, guys?
editorial@observer.com