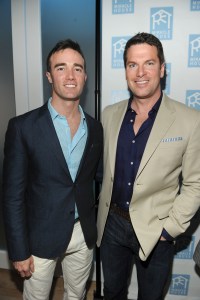 The anchor Thomas Roberts, behind his desk at MSNBC, wears a pair of jeans, though the part of him visible to the camera is suited up in shirt, tie and jacket. Given that he's only there in the event of major news breaking during the Olympics broadcast (which has pre-empted all other daytime programming), he says, there was no need to overdo it. "I've got a business on the top, party down below thing going on," he said.
While his work life may have been quiet for the week, his home life was busier than ever. Mr. Roberts, who says he was the first cable news anchor to come out, by dropping by a 2006 National Lesbian and Gay Journalists Association confab in Miami, is about to become the first cable news anchor to get married to someone of the same sex. (Yep, Rachel Maddow's still a legally single woman.)
At CNN, his career suffered after he came out, though Mr. Roberts says it was simply coincidence and not causation. "CNN was going through some changes at the time—CNN is perpetually, always going through changes … When I came back [from Miami], I was told my schedule was being switched. It was just ill timing." After a wilderness period at tabloid entertainment show The Insider ("I always had a sort of curiosity about how that type of news was done. Attempting doing it quenched that curiosity"), Mr. Roberts landed at MSNBC.
RELATED: Thomas Roberts's MSNBC Co-Anchor Al Sharpton, "A Reasonable Man"
And Mr. Roberts says his late-September wedding to Patrick Abner, of Merck Pharmaceuticals' HIV/AIDS division, and his public persona as a gay man, are unlikely to hurt his career at MSNBC—not least because, unlike certain newly out cable newsmen, he makes no claims to objectivity. "I am not objective when it comes to equality. And that means for all. I want it for you, for me, for everybody … It's written in our Constitution: life, liberty and pursuit of happiness, and what's wrong with talking about that? Nothing."
The Manhattan wedding is to have about 150 guests, and Mr. Roberts's attention has been diverted by the process of shedding unwanted weight. "I was on the treadmill for three miles this morning. I will be on it for three miles tomorrow. I had a Red Bull for lunch and I eat gum. I'm the typical groom!" His desk was cluttered not merely with his lunch—a pack of peppermint—but also an academic text on Loving v. Virginia and an MSNBC briefing packet on Mitt Romney's vice-presidential options.
We asked Mr. Roberts how the gay movement—consumed over the past week in a battle over the actions of Chick-fil-A, a Georgia-based chicken sandwich-monger—could distinguish between signal and noise. Mr. Roberts didn't see it that way. "They've been a longstanding company, I think since the 1950s, based in Georgia. I would love if we could figure out what they did for Loving v. Virginia back in the 1960s," he said referencing the landmark case striking down anti-miscegenation laws. "I would venture a guess: I think I know what they would say.
"The great thing that I love about our country is that though we were founded on freedom of religion, most important and most overlooked is that we were founded on freedom from religion … I fully believe in traditional marriage. You want one, go get one."
Mr. Roberts said, though, that he wasn't especially inclined to cover gay stories because of his demographic profile, despite the ex post facto judgments of viewers. "I think LGBT stories right now are newsmakers. So, no matter if you're straight, gay or Martian, you're going to be covering them. Because I am who I am, I can provide a different viewpoint, because people at home might know who I am or where I've come from—and that's O.K."
But being out of the closet allows one to pursue stories of social justice more aggressively, without worrying about whispers. We asked Mr. Roberts about his old CNN colleague, Anderson Cooper, who'd risen in the ranks while staying publicly closeted, until this summer. "Now people can stop asking me when do you think Anderson's going to come out," he said. "I have had that for years! And I think it's great … I think he's in a place now where he wants that personal-professional synergy. And he deserves that."
RELATED: Anderson Cooper's Journey Out
Mr. Roberts and his partner of 12 years will necessarily be a power couple of sorts, though the anchor doesn't seek public attention. "I'm a reluctant role model because I will fail. I will fall flat on my face. I've done it before, I'll do it again." But, having missed the chance to wed while living in Los Angeles (blame Prop. 8!), Mr. Roberts is ready for the next phase of his life. "This time around, we feel very confident in the fact that we're prepared, and people know it's really happening …"
He paused. "And now I've started to think about the caterer, and I've lost my train of thought."