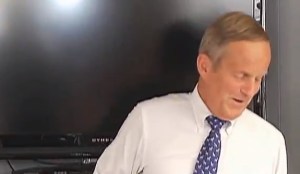 Missouri Congressman, costume enthusiast and (for now) Republican Senate candidate Todd Akin became notorious for his rather interesting theories on the female reproductive system this weekend, but his disastrous television interview isn't the first time he's shared his unique hypotheses on how babies are made. At a Tea Party event in Branson last year, Mr. Akin and his wife, Lulli, gave a detailed explanation of how they came together and made their six babies.
Mr. Akin began by explaining how he met Lulli, whom he repeatedly described as "not the sort of girl I would date" while playing tennis.
"She was not the sort of girl that I would ever date because I knew that I would find one of those in a bar and dancing and drinking and stuff like that
Eventually, the pair overcame their differences and, after a few months, he began thinking "she'd make a good mom." The rest is history.
"Lulli has blessed me with six children. Lulli keeps telling me it was God that did it, but Lulli was–there's an agency that's involved here," he said.
Lulli responded to her husband's discussion of her "agency" and heavenly intervention when their children came into this world with a more graphic description of her birthing experience.
"Just through my womb and you're home," she said.
The candidate assured her the audience needed no further explanation.
"They understand how that part works," Mr. Akin said.
Watch Mr. Akin explaining how he and his wife made their babies below. If that's not enough Akin action for you, the full version of his speech at the Branson Tea Party event is here.
[youtube http://www.youtube.com/watch?v=SDWSHrreXnQ]