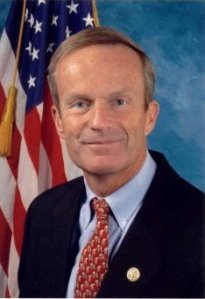 Embattled Congressman Todd Akin's campaign manager (and son) Perry Akin released a statement saying a new Rasmussen Reports poll showing that the elder Mr. Akin went from leading the Missouri Senate race to running 10 points behind his rival, incumbent Democratic Senator Claire McCaskill after his controversial comments on "legitimate rape" is actually bad news for Ms. McCaskill. The younger Mr. Akin's rationale for this interpretation of the poll numbers is that Ms. McCaskill should be beating Mr. Akin by a lot more than 48 percent to 38 percent in the aftermath of his rape-remark firestorm.
"The fact that Claire McCaskill is only polling at 48% after 72 hours of constant negative attacks on Todd Akin shows just how weak she is. If she can't break fifty percent after a week like this, Democrats should ask Claire to step down," the Akin campaign's statement said. 
Perry Akin also confidently declared that "Todd is in this race to win" and vowed "we will close this gap and win in November."
Interestingly, Ms. McCaskill also dismissed the Rasmussen poll.
"Rasmussen poll made me laugh out loud. If anyone believes that, I just turned 29. Sneaky stuff," she wrote on Twitter.
Prior to the rape flap, Mr. Akin had a slim 1 percent lead over Ms. McCaskill. A poll conducted by Public Policy Polling on Monday night, the first business day following Mr. Akin's widely discussed interview appearance, showed he still maintained his slight advantage in spite of the controversy. According to The Hill, Democrats are dubious of the Rasmussen poll because they believe "Rasmussen has a conservative bias and is in cahoots with GOP party leadership in trying to pressure Akin out of the race.

"
GOP leaders have publicly pushed for Mr. Akin to withdraw from the Missouri Senate race. Mr. Akin let the initial deadline for him to withdraw pass and has been defiantly fund-raising based on the fact that he's "still standing" amid the fallout from his remarks. However, there is still a possibility Mr. Akin could remove himself from the race and make way for another Republican candidate.