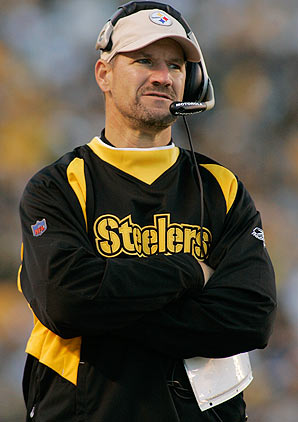 The Upper East Side seems to be the hottest place to be for NFL coaches these days. First Kansas City Chiefs head coach Romeo Crennel bought a place in Yorkville and now Bill Cowher is heading to the Royale condo tower in Lenox Hill. Stars of the football field take Manhattan?
Mr. Cowher, the former head coach of the Pittsburgh Steelers and current studio analyst for NFL Today plunked down $2.65 million for the two-bedroom condo at 188 East 64th Street, according to city records. He purchased the pad under the William L. Cowher Revocable Trust from Whitebar Holdings Limited.
At 1,500 square-feet, the place isn't exactly a football field, but it does include a wrap balcony and views from the 36th floor, including some of Central Park—head coaches seem to enjoy seeing the city from the nosebleed section.
The apartment was listed with Peter Ashe broker Asher Alcobi, who didn't quite get the $2.9 million ask, but then, it seems natural that an NFL coach would engage in at least a little goal-line bargaining. Men who spend years shouting at professional football players are not generally known for their shyness, particularly not those who lead their teams to Super Bowl victories. And the seller, having paid $1.65 million in 2002, did make a nice profit on the place. Butt pats all around.
It's unclear if the famed coach is abandoning his current place in Raleigh, N.C. altogether (one helpful reader pointed out that he hasn't listed his house there… yet) or just looking for a place to get away. Perhaps he's been lured north by one of the region's teams? After all, New York sports writers love nothing more than calling for coach's heads even a year after they win the championships. Now they have an able recruit. Or he just wants a place to call his own when he's in town on Sundays to shoot NFL Today.
Whatever the reason, so long as it brings a pack of Terrible Towel-waving drunks to the quiet streets of the Upper East Side, we'll be happy.
kvelsey@observer.com