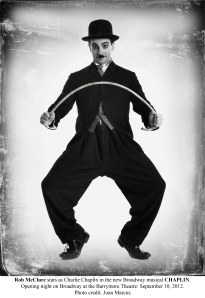 Sir Charles Spencer "Charlie" Chaplin packed a lot into his 88 years. Had he only been the premier comic genius of the 20th century; had he only been, in his heyday, the best-known and wealthiest person on planet earth; had he not been a divining rod for political controversy, no matter what time or cause; had he not been such a rabid womanizer that he married four times to kick the habit; had he not been, after all of those years of American productivity, still a British citizen and thus forced into exile for decades of unpaid taxes, it might have been easier to make a musical out of his story. But he was all of those things—and only Evelyn Wood could fit such a full life into two hours.
"That's why we had to pick and choose our moments," said Thomas Meehan, who shares the book burden of a brand-new Chaplin musical with Christopher Curtis, the show's lyricist, composer and creator. "We hit the highlights, and a lot of it is metaphorical." Previews for Chaplin begin on Aug. 21 at the Ethel Barrymore Theatre for a Sept. 10 opening.
There have been many false starts, abrupt stops, dead-end tours and detours on the way to a Broadway musical based on the very full, chaotic life of the silent-screen icon. Producer David Merrick did his legendary damnedest to bring in a Chaplin three decades back, starring his favorite English import. "With a minimum of modesty," said that import at the time, "our having Chaplin in the person of Anthony Newley infinitely helps us. There are very few performers who have that insane quality of physical comedy and movement." True, but Mr. Newley was a tad tardy hiring help (Stanley Ralph Ross) on his stylized, abstract book, so his "musical docudrama" took a critical drumming when it surfaced at L.A.'s Dorothy Chandler Pavilion in '83. With Andrea Marcovicci busily fielding all the wives' roles, it felt a lot like Stop the Reel—I Want to Get Off, which producers did after Houston's Theatre Under the Stars.
Something by David Pomeranz and Steven David Horwich called Little Tramp tried to crank up at Waterford's Eugene O'Neill Theatre Center in 1995 but sputtered to a stop. As recently as June, London's Guildhall School of Music and Drama resuscitated a 1982 Chaplin that director-choreographer Joe Layton built for Broadway (book by Bajour's Ernest Kinoy, songs by Shine!'s Lee Goldsmith and Roger Anderson). Nada. And undoubtedly, there have been other versions struggling to lift this extraordinary life onto the Broadway stage.
It was hardly the sort of life that lent itself to pratfalls and slapstick. Abandonment was a major issue. Chaplin's father, a music-hall semi-star, left him when he was 12 for the bottle and an early grave. His mother, also a music-hall performer, disappeared into madness that only darkened with the years. Even America, in the witch-hunting '50s, abandoned him, refusing him U.S. re-entry after a trip abroad and forcing him to make his new home in Switzerland.
Sans parents, Charlie and his older half-brother, Sydney, fell fast into the hard-knock life, which Mr. Meehan knows well, having written Annie. "They were sent to a workhouse, very Dickensian, and they were there about three years," he said. "When the show tried out at the La Jolla Playhouse, we had a scene where they were living in the street, stealing. Instead, we jump from the absolutely true moment when his mother broke down on stage and Charlie stepped in to finish her song to the time when he joined the Karno comedy troupe, which played London, New York and Chicago. Mack Sennett spotted him in New York and offered him $150 a week to come to California and make movies."
The first was a one-reeler prophetically called Making a Living. The second to hit the screen (Kid Auto Races at Venice) introduced the waiting world to The Little Tramp, his classic screen persona in baggy pants, over-sized shoes and twitching mustache.
"Charlie was 24 and unknown, but, within seven years, he was the most famous man in the world," said Mr. Meehan. "Movies were new, and people were swarming to them all over the world. Because they were silent films, they could play anywhere."
Chaplin soon left the Sennett fold to write and direct his own pictures. "He just saw in movies what other people didn't see. He saw his own life, the trauma of his childhood. He saw he didn't just have to be funny. He could get to the heart of things and move them. After La Jolla, when we got to the essence of his life, we realized that just about every film he ever did was autobiographical."
In Mr. Meehan's opinion, you don't have to look very far or very deep to find Chaplin's life mirrored in his movies. "The Kid was really about his own childhood, searching for a mother and father. In all his major movies, the lead character—The Tramp—tries to save a woman from some kind of fate. In The Gold Rush, he rescues and marries a saloon girl. In City Lights, she's a blind flower-girl. In Modern Times, she's another lost soul who needs to be saved, and they waddle off into the sunset together. His last big speech in The Great Dictator was an impassioned peace-plea to the people—and specifically to Hannah, which just happened to be his mother's name."
Director-choreographer Warren Carlyle, British-born but now an American citizen, feels a personal connection to Chaplin: "I have a brother I left behind in London to take care of our mother while I moved to America. Charlie did the same thing.
"His life was a giant story, and we cover it from workhouse to Oscars—from London in the 1890s to Hollywood in the 1970s."