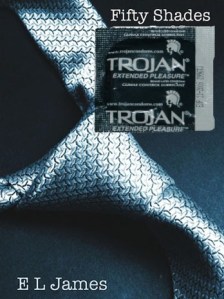 And in today's business news, Church & Dwight, the company behind everything from Arm & Hammer to Nair to TROJAN condoms (if you buy all their products at once, you're in for a fun night), held their Q2 Earnings conference call today. The news is optimistic, thanks to all those moms out there who are still trying to spice up their sex life with Vagina Ball Explosions (in the sex toy market): TROJAN can thank Fifty Shades of Grey for their market growth this quarter!

From today's Wall Street Journal:
Church & Dwight apparently owes some thanks to the "Fifty Shades" series of erotic novels. On second-quarter earnings call, CEO Jim Craigie says he's pleased with distribution and sales of the Trojan brand's Vibrations line of sexual devices, "which we believe has been aided by the popularity of the 'Fifty Shades of Grey' novel."

Church & Dwight estimates that the devices are a $300 million category, and with no major branded player, hopes to capture a pretty big share of that.
The conference call only made one Fifty Shades reference, but it did confirm that TROJAN would be expanding (heh) into the vibrator market, and made a direct reference to the erotic book:
We are also pursuing two of our high margin white space categories to help drive the company's future growth. First is the vibrator category which is over $300 million in size with no major branded players. We first entered this category in 2005 with our iconic TROJAN brand. And this year, we are launching full-sized vibrators in the new channel. We are very pleased with the distribution and sales gains at our entire vibrations line, which we believe has been aided by the popularity of the Fifty Shades of Grey Novel.
We're not sure how big a role condoms play in Fifty Shades of Grey…at this point, it just seems like the entire sex industry wants to pin its success on E.L. James. Does she get a royalty check every time someone over 40 has sex now?