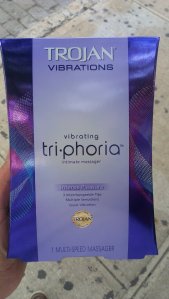 Despite great sales thanks to Fifty Shades of Grey, Trojan hit a bump yesterday in New York City when police raided its Flatiron hot-dog-vendor-like carts that were handing out free vibrators. Apparently it didn't have the right NYC permits for handing out vibrators rather than wieners.
But not to fear, citizens of Manhattan! You still have time to pick up your free sex products from a totally sanitary cart this evening!

From an email received earlier today:
I wanted to reach back out to you with an update that the toe-curling, record breaking Trojan Vibes giveaway will climax tonight at 5:00pm. With official NYC permits in hand, the Trojan Vibrations Pleasure Carts have reloaded and will be serving up pleasure tonight from 5-7 pm in the Meatpacking District on the corner of 14th Street and 9th Avenue.

In an effort to get the activation back up as quickly as possible, and honor Trojan's commitment to bring pleasure to the people, we've consolidated to a key location in Manhattan, known for its wide sidewalks and foot-traffic friendly streets for maximum sampling. Multiple Trojan Vibrations Pleasure Carts will be onsite, stocked with thousands of Trojan Vibrating innovations.

For anyone who did not hear the update on the new location/time, Trojan Vibrations brand ambassadors will be at previous planned locations (Union Square from 4-5pm @ 17th and Broadway; SoHo from 4-5pm @ Lafayette and Broome; and Murray Hill from 7-8pm @ 34thst and 3rd Ave armed with clipboards, taking email addresses for a vibe delivery straight from the Trusted Trojan Brand.

We'd love for you to stop by and see how yesterday's foreplay has drummed up buzz and anticipation. Please see below for an updated press release, and let me know if you have any questions. I'm also happy to send you renderings, images of the carts, or anything else you may need to build your story. Hope to see you at the Pleasure Carts tonight!
If anyone plans on getting one of these products, please send us a detailed description of the scene. We're avoiding it this evening … we need to save room for dinner.