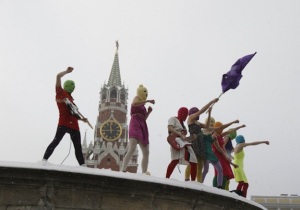 The Department of State released a short statement Friday with the heading, "Sentencing of Pussy Riot Punk Band Members in Russia," through spokesperson Victoria Nuland:
"The United States is concerned about both the verdict and the disproportionate sentences handed down by a Moscow court in the case against the members of the band Pussy Riot and the negative impact on freedom of expression in Russia.

We urge Russian authorities to review this case and ensure that the right to freedom of expression is upheld."
The three women were arrested in March for giving a brief performance at Cathedral of Christ the Savior in Moscow. They were found guilty last week of "hooliganism motivated by religious hatred" and sentenced to two years in a prison colony.