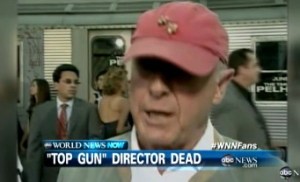 This morning we reported on the tragic, seemingly senseless suicide of Top Gun director Tony Scott, who jumped from the Vincent Thomas Bridge in Los Angeles after leaving detailed notes in both his car and his office of loved ones that he wanted notified of his death. (Among them, one can only assume, was Mr. Scott's brother and creative partner, Ridley Scott.)
New information emerged about this case this afternoon, shedding some light on this sad turn of events.

A source revealed to to ABC that Mr. Scott had been diagnosed with inoperable brain cancer; a fact that, if true, would go a long way to explain the premeditated and methodical nature of the suicide of a man who was in the middle of producing several high-profile projects, including a sequel to Prometheus and the A&E mini-series Coma.
[protected-iframe id="36b4e0812afab6cf0eb7039495cb4ec8-35584880-35147716″ info="http://cdnapi.kaltura.com/index.php/kwidget/wid/0_pfo7k1yh/uiconf_id/5590821″ width="392″ height="221″]
Mr. Scott was heavily involved in cancer charities; a cause he picked up after his older brother Frank died of skin cancer in 1980.