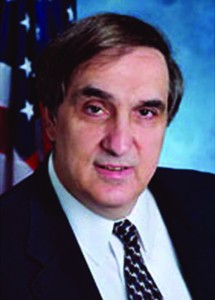 Assemblyman Vito Lopez, the leader of Brooklyn's Democratic Party, is fighting for his political life after the State Assembly censured him last Friday, the consequence of a concluded investigation that determined Mr. Lopez had sexually harassed two young staffers.
Many political insiders have written off Mr. Lopez's potential to remain atop of his chairmanship of the county's Democratic organization, but with district leaders set to meet in the near future to decide on his rule, Mr. Lopez sent out a press release this evening declaring his innocence:

"The charges made against me are unfair and untrue. Never did I intentionally touch or attempt to kiss either of the complainants. I have never forced myself on anyone, nor would I."
"I pride myself on over 40 years of dedicated public service, almost 30 of which as a State Assemblyman. During these years, I have helped tens of thousands of people with absolutely no goal of personal gain and just for the gratification of knowing I have improved peoples' lives."
"More importantly, I have proudly worked with thousands of community and religious leaders, men and women from a broad cross section of my district, city and state."
"I urge my friends and colleagues not to allow the media to determine a dedicated public servant's fate. I have no intention of resigning and instead look forward to continuing to represent my constituents to the best of my ability."
It certainly looks like Mr. Lopez intends to stick around even as increasing calls for his resignation add to the pressure against him.
Mr. Lopez is not facing a primary this year and is more than free to remain in the State Assembly, assuming no criminal convictions emerge. However, with his stripped seniority and staff budget, combined with the political toxicity of the allegations against him, it might be a difficult term for him next year.
His position atop of the Kings County Democratic Party, however, will not be entirely up to him and he will need to keep the support of the county's Democratic district leaders to hold on. That will be no easy task should he pursue it.