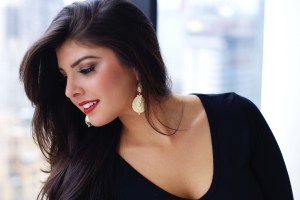 Having been booked to discuss teen drug and alcohol use on Anderson, tampons on Tyra and her own career on Today, Chelsea Krost, at age 21, has a sizzle reel that TV personalities twice her age would envy.
When asked by Today guest co-host Andy Cohen, in 2011, how someone with a nascent media career could possibly address the panoply of real concerns teens face, Ms. Krost replied, "I don't say I'm an expert. I say I'm a teenager who can just really relate to all the other teens out there."
The relatability part is, of course, open for discussion, but the expert part? She definitely says she's an expert.
"My expertise," she told The Observer recently, "is that I'm a chameleon. I could talk to Tyra Banks, Anderson [Cooper], Hoda [Kotb] on the Today show, but then I could be relating to the people where, literally, their feet are in their own feces in Africa, in the slums."
"Once people meet me," said Ms. Krost, "they realize that I can really be articulate in many facets of the world: entertainment, or philanthropy, or something practical, like cyberbullying or whatever. I really don't think there's anything I can't do."
As a post-teen, Ms. Krost had to change directions slightly: no longer a natural expert on teenagers, she morphed into an expert on all things millennial. As Ms. Krost put it during a local Fox segment in San Diego wherein two psychology experts congratulated her on her strong understanding of current dating tropes, "Who better to talk about the millennials than a millennial?"
A couple weeks ago, we dropped by her Upper East Side apartment, which was in a state of mild disarray in advance of a planned move. Ms. Krost, who is possessed of dark hair and a strong Selena Gomez aspect, wore a sleeveless white eyelet frock. Her eyes hold on you while she speaks; she never even glances at her phone, set on a table behind her, even though it beeps about every three minutes with a new message. A single book was displayed, cover-out: Made to Stick: Why Some Ideas Survive and Others Die. A framed photo depicted Audrey Hepburn in Breakfast at Tiffany's. A Life magazine with Marilyn Monroe on the cover sat on the coffee table. In the corner lay a stack of her memoirs, one of which she gave us.
What is a millennial, we inquired, aside from the purely generational designation for people in their late teens and 20s?
"I think our generation is the most different out of every generation. Every generation has differences. But I think our generation differs so drastically because the world changes so fast today. … People don't function the same because now the iPhone exists, because Twitter exists, because Facebook exists."
Ms. Krost's manager, Josselyne Herman, told us that she came up with her client's two-word hook: "millennial expert." There had never been a millennial expert before. "It was a unique branding title. Language creates reality." (Somewhere the ghost of Derrida raises an eyebrow.)
Ms. Krost originally came to our attention when The Observer received an email from her publicist, wondering if we were planning back-to-school coverage. (We weren't.) Her client could advise our readers on how to avoid "the dreaded freshman 15."
(Quoted in the email, Ms. Krost notes that she gained only ten pounds her freshman year. Even that, though, was surprising. "I was working out all the time, totally into fitness, and realized I had more body fat than I thought I did.")