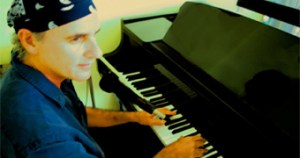 Songwriter, novelist and erstwhile investment adviser Gary Marks—also the author of investing guide Rocking Wall Street—agreed to pay $421,000 to settle Securities and Exchange Commission charges that he negligently misrepresented the correlation and diversification among some of the funds he managed.
The nitty-gritty, according to the SEC: Between 2005 and 2007, Mr. Marks managed several funds-of-funds and told investors that the funds weren't correlated, when in fact a) they were and b) he "did not even know how to properly perform such an analysis."
There are other charges: That Mr. Marks proffered unsuitable investment advice, made inadequate disclosures and misled investors regarding the liquidity of one of his funds.
Our point in this case has less to do with the charges, which appear to be relatively minor (about $321,000 of the settlement amount is a disgorgement of ill-gotten gains), but rather the fact that the man shown above—a Kihei, Hawaii, resident who has apparently recorded with John Schofield and self-published 11 novels (sample description, Wow: "Who is Zolar, and why should you be listening to him right now? … Two kids start an Internet scam only to find out they were telling the truth all along."), such a man was, at the end of 2007, managing approximately $152 million.
Which is to say, maybe it was or maybe it wasn't a boneheaded idea to invest with Mr. Marks, but when a guy lists his influence in the San Francisco-area songwriting scene near the top of his résumé, you probably shouldn't be too surprised that he can't calculate correlation.
(H/t: FINalternatives)