These photos would be humiliating even if Mr. Lochte wasn't a celebrity who was just caught splashing around with a British prince moments before the royal was photographed playing naked billiards.
We hear that oral bling can really slow you down in the meter races.
Mr. Lochte might want to delete this one.
We don't know what happened after this photo was taken, but if history has proven anything, it probably involved bottle service, head injuries and nudity.
That hand gesture really adds some street cred.
This must have been what it looked like backstage the first time Carrot Top sold out a show.
Is he at a rave? On ecstasy? What is going on here?
At least he looks somewhat respectable here.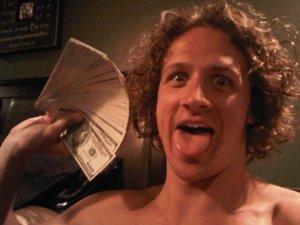 Long before he was hanging loose with Prince Harry, Olympic swimmer Ryan Lochte was living a life of debauchery and unkempt tresses, all documented on his Facebook page. It's not pretty.

Following a tag from his sister Megan Jean Lochte Torrini's Facebook account, The Observer found itself down the rabbit hole of Mr. Lochte's year before the 2012 Olympics. Pimp cups! Blinged-out grills! Drake! More grills! Really, really terrible hair! If one wanted, one could follow the transformational timeline from this guy to this guy in exactly one year. But since it's Friday and we know you want to go home, we've compiled the best photos for your perusal. Enjoy!
(Images via Ryan Lochte's Facebook)