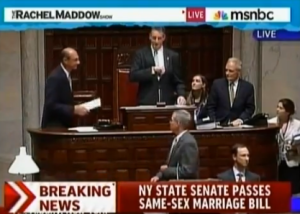 "I apologize to those who feel offended, to those who I've hurt," Republican Sen. Mark Grisanti said in the chambers of the New York State Senate on June 24th of last year. "I cannot deny a person, a human being, a taxpayer, a worker, the people in my district and across this state, the State of New York, and those people who make it the great state that it is, the same rights that I have with my wife."
Soon after, the clerk read off the votes, formally establishing that with four Republicans in affirmation, the Marriage Equality Act would pass the Republican-controlled State Senate. It was the middle of the night.
"Ayes 33, Nays 29," he stated, causing the chamber to boom with cheers, the audience full of supporters of the bill chanting "U.S.A.! U.S.A.!" as officers struggled to regain control.
In the subsequent days, weeks and months, hundreds of thousands of dollars flooded into the campaign accounts of the four Republicans who supported the bill. Moreover, these four saw plenty of attention shifted to them, including a million-dollar Manhattan fund-raiser hosted by Mayor Michael Bloomberg and glowing 3,600-word piece by Bill Keller, the former executive editor of The New York Times.
However, they weren't the only ones critical to the measure's passage: three Democrats who voted against gay marriage in 2009 also flipped their votes. And two of them—Joe Addabbo and Shirley Huntley, both of Queens—have tough races for re-election and aren't quite feeling the same love as their GOP counterparts.
"Evidently Addabbo wasn't as important to them as the Republicans," Ms. Huntley told The Observer about LGBT donors who showered the four GOP senators with campaign cash. "Evidently our vote wasn't important. I took a hit for that."
Ms. Huntley and Mr. Addabbo, like the three Republicans seeking re-election, are all facing challengers who oppose gay marriage, yet there's a big gap in how strong their campaigns are financially. Ms. Huntley most recently reported having about $33,000 in her campaign account, and Mr. Addabbo a bit over $100,000, while the Republicans range from twice that all the way up to over $600,000.
A variety of reasons may be in play. For one, there was a serious effort on behalf of some of the biggest Republican donors in New York City specifically to secure GOP votes by promising the senators protection in their primaries. These donors included billionaire Paul Singer—who has a gay son—and hedge fund managers Cliff Asness and Daniel Loeb. Understandably, partisan money is not necessarily going to be flowing in a bipartisan manner.
Democratic strategists, who requested anonymity to avoid stepping on the messaging of their candidates, framed this in more critical terms.
"Number one, the Republicans were shameless about trading their votes for the money, and much of the financial support was coming from Republicans," one of these strategists pointed out, when asked why the lion's share of the contributions after the marriage vote went to the GOP.
"The irony of the situation is that the same money that the LGBT community has given to the Republican Party has been spent in acts against pro-marriage Democrats," said another. "Democrats doing the right thing is dog bites man, Republicans doing the right thing is man bites dog."
A second issue may be that pro-gay marriage Republicans are a point of pride for some in the LGBT community. There are no prominent GOP officials anywhere in the country who openly support it—no governors, no senators and only one current member of Congress. Thus, these few Republican state legislators stand out as impressive rarities. And with interest groups threatening these unorthodox Republicans by running socially conservative candidates against them in Republican primaries, there is all the more motivation to shield them.
"My sense of it, part of the issue is National Organization for Marriage, not just in New York but across the country, said any Republicans [who] voted for marriage … they were going to take out," one former LGBT operative said of the situation. He asked for his name to be withheld as he is still involved in politics. "NOM is looked at as the enemy in the gay rights movement, the worst of the worst, the most dangerous and the most well funded.
"I think when they came to New York and said they were going to take out the four Republicans when the next election came up, the large gay donors focused on shoring up those Republicans so that NOM wouldn't have a win," he added.
NOM's president, Brian Brown, framed the issue in more basic terms.
"I think it's simple," he said as to why the four Republicans receive most of the attention. "If those Republicans had done what they were supposed to do, gay marriage would not have passed in New York."
Others were just confused.
"It's hard to figure that one out," Ms. Huntley said. "They wanted everyone's vote. They lobbied me … I know they lobbied Joe."
She explained that her shifting stance was no less significant than that of Senate Republicans and suggested that perhaps it was due to a misunderstanding as to where pro-gay rights voters actually live. Polling shows some of the strongest overall growth in support for gay marriage can be found in the suburbs, and some of the lowest support in African-American and immigrant communities.
"Maybe they just felt like I was supposed to do it, or maybe they felt like a lot of black voters aren't conservative, which they are," she said.
Alan Van Capelle, the former head of the Empire State Pride Agenda, was critical of this mind-set, arguing, "Elected officials have looked at the gay community as being the ATM of elections. If they did the right thing by the gay community, that would be a secret PIN number and the gay community would automatically start dispensing money to them.
"The interesting thing about gay politics and money is that, in 1988, the gay community raised an enormous amount of money for Michael Dukakis's presidential election, and Mike Dukakis refused to accept the money," he continued. "He thought it would hurt him that he was accepting gay money. In 1992, when Bill Clinton was running for election, Bill Clinton accepted a million dollars from the gay community. It's not a victory today for a gay person to write a check and have that check cashed by the candidate. Oftentimes it feels insulting—when someone takes a vote for equality they expect to get paid by it. I think elected officials have a very fine line to walk between expecting the gay community to open up their checkbooks unconditionally."
Regardless, the issue of gay marriage certainly seems to be bubbling up into the campaigns of the two Democrats. (A third Democrat, Carl Kruger, also switched his vote since 2009 but doesn't have to worry about re-election, as he's currently in prison for federal corruption charges. The day after he turned himself into authorities last year, the New York Post outed him as gay—which he denies—on the tabloid's front cover. If true, that may have provided a personal motivation for the politician.)
For their part, both Ms. Huntley and Mr. Addabbo explained their switch by saying they polled their constituents and found increased support for gay marriage since they cast their votes against it in 2009, but that's not an explanation their opponents seem ready to accept.
Ms. Huntley is facing a serious primary challenge from Councilman James Sanders, who told us at a recent campaign event that he opposes gay marriage but supports civil unions. He also said Ms. Huntley's vote-switch could impact the campaign, saying, "It's an issue, everything's an issue."
She put it in blunter terms.
"Put it this way," she said. "I haven't heard him say it to me, but I heard him say that I sold out the black families."
Mr. Addabbo is also facing one of the most serious electoral challenges of his career. Republicans redrew his blue collar district to include every Republican vote in eastern Queens, creating a convoluted mess that, for example, wiggles around to grab Orthodox Jewish voters in the Far Rockaway while leaving the African-American community in Ms. Huntley's district.
And Mr. Addabbo, a veteran politician whose father represented Queens for decades in Congress, might not even be sweating his election, except he is facing off against a particularly strong opponent: GOP Councilman Eric Ulrich, 27 years old and considered one of the city's rising political stars. Mr. Ulrich is also flush with money—thanks in no small part to the Republican's statewide campaign committee chipping in $250,000.
"It's obviously going to be a harder race than we would like," a source close to Mr. Addabbo said of their likely opponent. "We're obviously very behind in terms of money."
And Mr. Ulrich has shown a willingness to press him on the issue and potentially peel away socially conservative voters.
"I don't know what role gay marriage is going to play in this campaign, but I know his flip-flopping is definitely an issue," Mr. Ulrich told the Queens Chronicle in the first week of his campaign. "First he voted against it, saying most of his constituents were against it, and then for it, saying most of his constituents now favored it. I think people are frustrated by that. Joe's got people upset with him on both sides of the issue."
Mr. Addabbo told us he disagrees. "It's been a year since the bill has passed," he explained, "and the majority of people have seen that their lives have not changed. What people care about—fair taxes, accessible healthcare, creating jobs, the budget—that is what is affecting people."