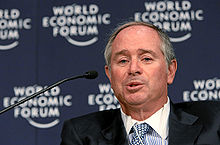 We've been pondering that question after Reuters reported this morning that when Blackstone Group named Joe Baratta its new global head of private equity last month, it also added the 41-year-old deal maker to the firm's succession plan. As such, Mr. Baratta joins five other Blackstone executives tapped as potential successors to founder and CEO Stephen Schwarzman.
A dozen or so paragraphs into the story:
Were Schwarzman to step down in the next few years, President and Chief Operating Officer Tony James, 61, would likely take the reins at the firm. "Steve will never retire; he will die at his desk. I wouldn't necessarily conclude that Tony (James) is leaving anytime soon. He is a workaholic and he has got enormous energy," one senior Blackstone executive said.
Which is to say that no matter Mr. Baratta's role in the company's planning, he's not likely to step into the top job any time soon. So what gives? Sure, Blackstone might assuage investors concerns about key man risk by letting word of a succession plan slip—on the other hand, who cares? Steve Schwarzman is giving us to believe that he's going to work until he dies, and does it really take six people to replace the guy?
Perhaps more usefully, Mr. Baratta got mentioned at the top of a Reuters story, in which he was described in flattering terms and as a member of Blackstone's management elite. That's nice for his ego, no doubt; And it's nice for clients investing with the firm's private equity funds to believe that the guy running the business is in the inner circle.
All that to say, naming a  potential successor is probably about more than the eventual succeeding—an idea The Times was onto in April when it an article about the respective longevities of private equity leaders such as Mr. Schwarzman, KKR's Henry Kravis, Carlyle Group's David Rubinstein and Apollo's Leon Black.
A nagging problem facing the big private equity companies is how to retain their top talent when the leaders show no signs of moving on. Some companies, like Warburg Pincus and Advent International, have already made a leadership transition to the younger generation, but the largest ones have not.

"I think a number of these firms do not feel the pressure of having to identify successors," said Mr. James of Blackstone. "Their founders expect to be in their seats a long time. And that has implications for your up-and-coming talent because there isn't enough succession at the moment. If the brass ring is too far away, your best people will leave."
To that, we'd add an interesting tidbit suggested to us by Michael Robinson, who heads the corporate and public affairs practice at Levick. In addition to comforting investors on one side and retaining talent on the other, the existence of potential leaders waiting in the wings might create the impression of a company that nurtures talent. "There are companies, and Blackstone may evolve into one of them, that are generally thought of as incubators," Mr. Robinson told The Observer—General Electric, traditionally, or more recently, Google. A public succession process might get the next wave of talent thinking, "'sure I want to go work there, I want to be mentored, I want to be trained,'" he said.
It may just be a tertiary motivation, but it's a less obvious and more interesting to think about then the succession plan as a possibly excessive reassurance to investors or a crude carrot for senior execs.