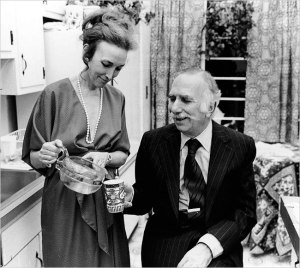 When Helen Gurley Brown died this Monday, she left behind a legacy of sexual liberation, generations of bereaved Cosmopolitan fans and a four-floor penthouse in one of the Beresford's Southwest towers.
The fate of the tower apartment, which Brown and husband David Brown bought in the 1970s from director Mike Nichols, remains unknown. But its high place in Brown's affections was no secret—it ranked right up there with sex, ambition and her husband. When asked by Vanity Fair where she would most like to live, Brown replied:
"Exactly where I am living—the Beresford Apartments, on Central Park West and 81st Street. We have the top four floors of a tower apartment. I'm slightly prejudiced, but I think it's the best apartment in New York."
Brown's apartment was said to be both magnificent, with a huge, tower-top terrace overlooking Central Park, and magnificently groovy, with pumpkin shag carpeting in the living room and zebra-print wallpaper.
It may well come on the market given that Brown died without any immediate relatives who might take up residence for sentimental reasons: her husband, a film producer responsible for such blockbuster delights as Jaws, died in 2010 and the couple had no children. Brown's sister also died before the nonagenarian.
If it did, it would be the first of 211 Central Park West's quadruplexes to come on the market since July 2004, according to data provided by Donna Olshan of Olshan Realty. That 14-room Southwest-facing tower apartment, #21A, sold for $15.3 million. Of course, 2004 seems a distant epoch when it comes to real estate prices.  The most salient point of comparison is more likely the $29.5 million that Bob Weinstein has been asking for his 14-room Beresford penthouse (not in the tower) since he listed it in 2009. (The listing for the apartment, which was available until just a few weeks ago, has been pulled, suggesting that it may have been snatched up in the luxury buying craze sweeping the city). Another penthouse apartment, a three-bedroom with a total of 90-feet fronting Central Park (also not in the tower), was listed for $22 million, but appears to be off the market as well now.
But nothing could be quite like the mouseburger's apartment—a swinging pad for a small-town girl who clawed her way to a lofty perch with a set of perfectly-manicured nails. A USA Today reporter who toured the home in 2007 found that hardly anything had changed since the Browns had the place decorated in the 1970s. Also, that it was awesome: she found a leopard-print rug in the office (over the parquet), bubblegum shag carpeting in the master bedroom, a dining room with lacquer red walls and cushy banquettes. Ficus trees grew on the terrace. The famous clotheshorse had a dressing room lined with pink-painted closets, including "one devoted entirely to racks of black slingbacks and pumps," as well as the maid's room. She also confessed to overtaking half her husband's closet downstairs.
The couple moved to the Beresford from a chic Park Avenue pad. Brown told The USA Today reporter that "it was supposed to be sort of tacky over here."
kvelsey@observer.com