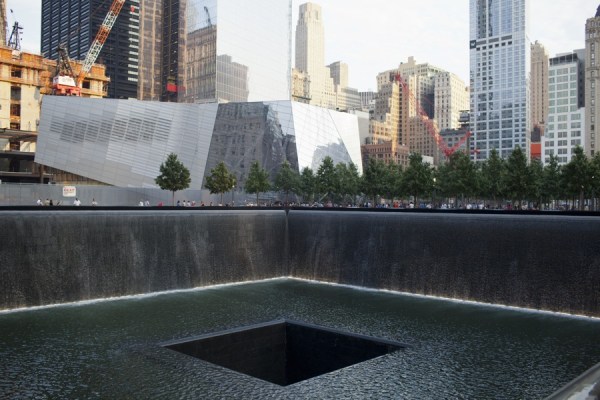 These days, a certain jolt of excitement takes hold gazing at Lower Manhattan from a far. Maybe you're crossing Greenwich Street in the Village and look south, or corkscrewing out of the Lincolln Tunnel helix in Jersey. Even stepping off the plane at LaGuardia or JFK, 1 World Trade Center is plainly visible. It may not be the most beautiful building in the city.
Yet like its twin siblings, the tower has become an undeniable landmark, the sort of symbol of rebirth—or at the very least progress—politicians and planners had long hoped for with the rebuilding of the World Trade Center.
But get too close, and the landscape quickly turns from inspiration to depredation. Still.
Larry Silverstein has no one to fill his second tower on the site, and without one by next year, it will likely remain frozen just like its neighbor, the second tallest building downtown, which is not due for decades barring a miracle. Even something as simple as finding a home for Fritz Koenig's Sphere has proven impossible. And don't even mention the Santiago Calatrava-designed PATH station, which seems to grow a million dollars in cost every minute.
So it should come as no surprise that as the 11th anniversary of the attacks approaches, the 9/11 Museum is nowhere near being finished, and may not even be ready by next year's anniversary either, according to Crain's. Infighting persists among the foundation that runs the museum and the Port Authority over which party is responsible for more than $156 million in construction costs at the site. Construction has been halted for nearly a year.
There are some tiny glimmers of hope, Crain's reports, especially as the anniversary approaches, but not enough progress to get things underway again.
Sources say Mr. Cuomo has become more involved in the negotiations with the foundation over the past month. At the same time, the Port Authority has stepped back from some ideas that the foundation found particularly objectionable.
It is heartening to hear of the governor's interest, but it also brings to mind an anecdote that anchored Scott Raab's latest ground zero dispatch for Esquire. Mr. Raab recounts the in-fighting and backbiting that have plagued the site for more than a decade now, none of it especially surprising to World Trade Center watchers. Not to suggest his is not a griping story, which it is, just oy gevalt, enough you guys already. To that end, there are also some surprising tidbits, like this exchange at last year's anniversary that holds echoes over the current fight.
The dignitaries are assembled by the stage, waiting for Obama and Bush, when one of them overhears [former governor George] Pataki say to Cuomo, "Isn't this a great day? Just beautiful — and look how this has all turned out."

And Andrew Cuomo says to Pataki, "This is the biggest waste of money anybody's ever seen. Who would have ever spent this money? If we'd known what this was going to be like, nobody would have ever done this."
Capital's Dana Rubenstein did a thoughtful investigation of the incident, wherein both gubernatorial camps deny the exchange. Still, apocryphal or not, it illustrates the follies, both political and financial, that have hamstrung the site all along, and will probably continue to do so until the whole enterprise is finally finished.
That is assuming that day ever comes.